Singapore rolls the dice on its first casino
Singapore's first casino opened for business yesterday as the first punter was allowed into the gaming section of Resorts World Sentosa complex.
The opening — to be followed within months by a second casino resort — is part of a multibillion-dollar effort to transform Singapore's tourism industry.
The doors to the cavernous and carpeted casino were thrown open to the public at 12:18pm on the first day of the Year of the Tiger in the lunar calendar.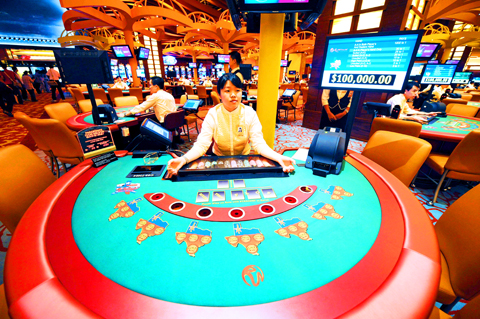 A dealer stands by a table at the opening of Singapore's first casino, the Resorts World Sentosa complex, in Singapore yesterday.
PHOTO: AFP
When pronounced in the Cantonese dialect, 12:18 sounds like "prosperity." A middle-aged Singaporean woman was the first gambler allowed in, followed by an initial crowd of about 200.
The US$4.4 billion resort features Southeast Asia's first Universal Studios movie theme park, which also opened for a week of sneak previews from yesterday.
"We have waited a long time for this. Today's opening of the casino is a milestone for Resorts World Sentosa, for Genting Group and for Singapore," Genting Group chairman Lim Kok Thay (林國泰) said in a ceremony before the doors opened.
"We couldn't have asked for a better time to open," he said, referring to Asia leading the world in recovering from the worst global recession since the 1930s.
Singapore's second casino, Marina Bay Sands, is being completed by the US-based Las Vegas Sands and is expected to open in April.
Officials hope the casinos will help Singapore achieve its target of 17 million visitors a year generating more than US$21 billion by 2015, boosting the services sector and reducing the role of manufacturing in the economy.
A lion dance and firecrackers preceded the opening of the casino.
Resorts World Sentosa last month opened four premium hotels and is testing the rides at the Universal Studios theme park before it is fully opened to the public.
Singapore in 2005 agreed to go ahead with two casino resorts after a rare public debate.
Opponents fear gambling would threaten Singapore's "family values" reputation and put it at risk of becoming a center for money-laundering.
As a "social safeguard," Singaporeans will have to pay S$100 a day (US$70) to enter the casinos.
Comments will be moderated. Keep comments relevant to the article. Remarks containing abusive and obscene language, personal attacks of any kind or promotion will be removed and the user banned. Final decision will be at the discretion of the Taipei Times.