Taiwan not open to Chinese banks: Wu
ALARMIST Premier Wu Den-yih warned business leaders that failure to pass an economic cooperation framework agreement with China could marginalize Taiwanese firms
Premier Wu Den-yih (吳敦義) yesterday denied speculation that Taiwan would allow Chinese banks to merge with or invest in Taiwanese banks or financial institutions.
Asked to comment on reports that Chinese banks would now be allowed to merge with Taiwan-based banks and financial institutions, Wu told the Taiwan Foreign Correspondents Club that this was not the case.
"So far, it is not the case that Chinese banks can buy Taiwanese banks," Wu said.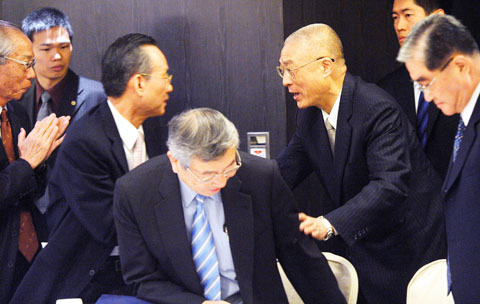 Premier Wu Den-yih, second right, shakes hands with business leaders at a breakfast meeting held by the Chinese National Association of Industry and Commerce in Taipei yesterday. During the meeting he expressed his concerns that failure to sign an economic cooperation framework agreement with China would put Taiwanese firms at risk.
PHOTO: CHIEN JUNG-FONG, TAIPEI TIMES
He said, however, that during talks on a proposed economic cooperation framework agreement (ECFA) between Taiwan and China, discussions could touch on allowing one or two Chinese banks to open branches in Taiwan.
"We might discuss one or two Chinese branches being able to establish themselves in Taiwan," the premier said, "but there will be no discussions on acquiring Taiwanese banks."
Wu, who emphasized that the administration would take a "step-by-step" approach to cross-strait agreements, said that an ECFA would not be discussed during the fourth round of talks between the Straits Exchange Foundation and China's Association for Relations Across the Taiwan Strait in Taichung later this month.
Negotiations on an ECFA, he said, would start at the beginning of next year.
Minister of Economic Affairs Shih Yen-­shiang (施顏祥) said later ­yesterday that the two sides would begin formal negotiations on an ECFA after the Lunar New Year, which falls in mid-February.
Earlier yesterday, Wu told representatives of the Chinese National Association of Industry and Commerce (CNAIC, 工商協進會) that Taiwan's industrial development would be jeopardized without an ECFA in view of the threats posed by ASEAN Plus One.
With the ASEAN Plus One to take effect next year, the average export tariffs on Taiwanese goods to China will be 9 percent more than those of ASEAN countries — a disadvantage that could put companies off setting up production facilities in Taiwan, he said.
Taiwan will be further marginalized when a free-trade zone is formed among ASEAN with China, South Korea and Japan, he said.
CNAIC chairman Theodore Huang (黃茂雄) said that the government should allay companies' skepticism on the potential impact of an ECFA and come up with plans to help affected industries.
Comments will be moderated. Keep comments relevant to the article. Remarks containing abusive and obscene language, personal attacks of any kind or promotion will be removed and the user banned. Final decision will be at the discretion of the Taipei Times.