Carrefour dairy sales halved after milk scare
TAINTED PRODUCTS Sales of dairy products in China have dropped by 50 percent after government tests showed melamine contamination in a wide variety of foods
Carrefour SA, Europe's biggest retailer, said its dairy sales in China fell by 50 percent after government tests showed chemical tainting of milk products.
Sales started to recover in the past week and may be back to normal in about a month, said Eric Legros, Carrefour's managing director for China. Dairy products account for about 1 percent of the Paris-based company's total revenue in China.
"The most important thing we need now is to be rational because without being rational you have panic and panic is no good for anyone," Legros said in an interview yesterday at a regional development conference in the western city of Chongquing.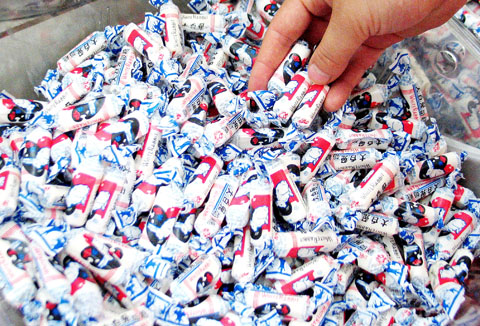 White Rabbit candy is seen for sale in a supermarket in Fuyang in central China's Anhui Province on Tuesday. The roll call of companies facing recalls and other actions grew on Friday as reports of melamine contamination spread.
PHOTO: AP
China pulled more than 7,000 tonnes of dairy products from shops after they were found to be laced with melamine, typically used to make plastics and tan leather. Twenty-two dairy producers were found to have used the chemical that has caused kidney stones in babies. Tainted milk formula killed four infants and sickened 53,000 in China.
"I think it's important that we explain to consumers that there's nothing wrong with milk," Legros said. "It's only that some processors added bad stuff to the milk."
The contaminated products were first found in baby milk powder produced by Sanlu Group (三鹿), 43 percent-owned by New Zealand's Fonterra Cooperative Group.
Carrefour spokesman Chen Bo (陳波) said the chain had pulled Sanlu milk powder off its shelves, Xinhua reported on Sept. 12.
The French company, which has 120 stores in China, supplies fruits from China to Europe, while it doesn't ship milk or dairy products, Legros said.
H.J. Heinz Co, the world's largest ketchup maker, said on Friday it would recall 270 cases of baby food in Hong Kong after finding traces of melamine. Seven instant coffee and milk tea products made in China are being recalled in the US, the first announced by the US Food and Drug Administration.
Chinese authorities have pulled more than 7,000 tonnes of milk powder, liquid milk and other dairy products that were contaminated.
China's agricultural ministry said yesterday that inspectors have begun cracking down on lax production methods in 16 dairy and feed-producing regions.
The eight inspection teams are part of efforts to overhaul the US$20 billion dairy industry, focusing on weeding out problems, establishing quality standards and enforcing supervision, the ministry said in a statement.
China, the world's biggest agricultural producer, is trying to quell rising concern about its food-safety controls after 22 companies were found to have sold dairy products tainted with melamine. More than 20 countries and markets have banned milk products from China.
"It's an important task for us to revive consumers' confidence in China-made dairy products," Commerce Minister Chen Deming (陳德銘)said yesterday on the ministry's Web site. "We need to achieve this through effective supervision and adopt better quality standards and product testing."
Deputy agricultural ministers and senior economists are leading the overhaul work in Beijing, Henan, Inner Mongolia, Liaoning, Hebei, Xinjiang and Heilongjiang, the statement said.
"The bottom-line task is to take forceful measures to ensure all diary products made after Sept. 14 are problem-free," Wang Yong (王勇), China's chief quality supervisor, said in a statement yesterday.
The General Administration of Quality Supervision, Inspection and Quarantine agency has said no contamination was found in milk products made after Sept. 14.
Chinese scientists have developed a chemical substance enabling cheaper and faster testing for melamine, the Xinhua news agency said Saturday. The reagent can detect melamine in 20 minutes at a cost of 20 yuan (US$2.90), compared with liquid chromatography methods which take a week and cost 2,000 yuan, the report said.
Comments will be moderated. Keep comments relevant to the article. Remarks containing abusive and obscene language, personal attacks of any kind or promotion will be removed and the user banned. Final decision will be at the discretion of the Taipei Times.