Beitou cleaning up spa market
LIQUID LEISURE The Taipei suburb, once noted for sleazy bath houses, now appeals to a broader clientele as spas grow in popularity nationwide
With a towel wrapped around his head, Chen Jen greets his friends as he slips into a pool of hot water and hums his favorite song.
Like many men visiting this hot spring in Beitou (北投) -- the oldest in Taiwan -- he is performing a ritual he has been enjoying for decades. Only now he finds himself surrounded by women and children as the nation's once sleazy bath-house culture undergoes a transformation.
Nostalgically, Chen closes his eyes and hums a song called "Yunojima elegy," about a man seeking comfort in a bathhouse after he is ditched by his lover.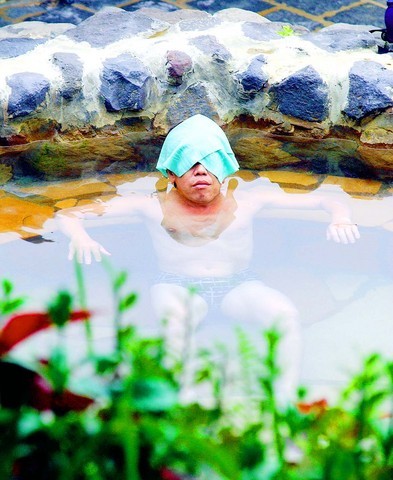 A man dips himself in a spa in Beitou last month. Japan's ``onsen'' (hot spring) culture has greatly affected the development of Taiwan's hot spring and spa industry.
PHOTO: AFP
"That was a Japanese song very popular more than half a century ago," 72-year-old Chen recalls as sweat drops down his face while steam with the smell of sulfur rises from the pool.
"At that time, it took only three cents to have a hot spring bath," he adds wistfully.
The spartan public bathrooms in Beitou are the most famous in Taiwan, where hot spring culture is more than a century old. Its development dates back to 1893 when a German businessman discovered hot springs there and set up a spa.
When Japan began its colonization of Taiwan two years later, the culture of hot springs started to spread across the island and during the 50-year occupation, Beitou flourished as the premiere spa destination.
Even so, housewives and children from outside the area were reluctant to stay in hot spring hotels.
"Beitou used to be a place for men only. They came here mainly for drinking and having sex while enjoying hot springs," says 46-year-old Yeh Su-hung, a Beitou resident.
But things have changed since the late 1990s, with Beitou emerging as a popular leisure spot for families.
"Time flies and everything has changed," says Chen, as he sits in the tub of 40oC water.
The pools are now surrounded by several luxurious high-rise hot spring hotels nestling on the foothills of the Tatun (大屯) group of 20 volcanoes north of Taipei.
Windy Yang (楊麗芳), a noted writer nicknamed "Spa Lady," is among the many women who now enjoy bathing in hot tubs at Beitou and elsewhere.
"Japan's onsen [hot spring] culture has had a far-reaching influence on the development of the local hot spring industry," she says, adding that it has become something of a heath fad in more recent times.
"I suffered from some injuries like tennis elbow and wrist strains, but these have greatly improved over the past five years," says Yeh, who pays just NT$40 for each stay of up to 150 minutes at his favorite Beitou spa.
"However, it only works if you do it regularly. I do it five days a week," he says.
A driving factor behind the gentrification of spas was the government's adoption of a five-day work week in 2000, says Chen Hui-tsung of the Hot Spring Tourism Association of Taiwan (中華民國溫泉觀光協會).
"With parents having more time, they now look for good places suitable for whole families. Parents would never consider taking their children to hot springs where sex services are available," he says.
Television programs about Japan's famous hot spring resorts are also fuelling the interests of leisure seekers and entrepreneurs.
"Spa and hot springs investors have found huge business opportunities from the changes [in the perception of hot springs]," Chen says.
The sector has attracted investment worth billions of dollars to construct some 150 large resorts, hotels and restaurants in the nation's 20 hot spring areas, he says. In Beitou alone, there are more than 20 hotels.
For those who prefer to soak in privacy rather than a communal public bath, there are luxury resorts in Beitou and places such as Wulai (烏來), a mountainous scenic spot less than an hour's drive from the capital.
"Once they are here, our clients will definitely appreciate the value of our service," says Jesse Cheng (鄭家鈞), general manager of the Spring Park Urai Spa and Resort (春秋烏來), referring to the resort's French cuisine, spa facilities and views of the river.
The upscale resort has had an occupancy rate of around 70 percent since it opened in 2001, despite a price tag of NT$26,000 per night in one of its suites.
Private baths suit "Spa Lady" Yang who says she likes "nude bathing" because "it helps strip off the burden of daily living, and gives me a feeling like being in a mother's womb."
Unlike Japan, where hot spring tourists stay overnight or longer, most Taiwanese usually drop in for just an hour or two.
"That's because in Japan, hot springs are located in remote areas and it may take several hours to reach them. In Taiwan, hot spring areas are on Taipei's doorstep," the association's Chen says.
Comments will be moderated. Keep comments relevant to the article. Remarks containing abusive and obscene language, personal attacks of any kind or promotion will be removed and the user banned. Final decision will be at the discretion of the Taipei Times.