US firm takes on E-Coffee over its 'misleading' logo
TRADEMARKS The local firm operating Starbucks outlets confirmed that its US counterpart has filed a complaint against E-Coffee
President Starbucks Coffee Corp (統一星巴克), the firm operating the Taiwanese franchise of Seattle-based Starbucks, yesterday confirmed that its US counterpart has filed a complaint with local authorities over an alleged trademark copyright infringement by its local rival E-Coffee (壹咖啡). \n"The US headquarters directly commissioned its local attorney to file a complaint over E-Coffee's trademark registration, as the similarity in logos misleads consumers," President Starbucks' public relations officer Bonnie Chao (趙仁安) said yesterday. \nThe case is currently under investigation, Chao said. \nShe said that President Starbucks only found out about its US counterpart's intention to file a complaint on Thursday. \nChao said that she could not comment further, as President Starbucks does not have any involvement in the complaint. \nPresident Starbucks, a 50-50 joint venture, has over 142 outlets across the nation, according to the coffee operator. \nThe US coffee giant lodged a complaint in October last year to the Intellectual Property Office (IPO) under the Ministry of Economic Affairs over E-Coffee's trademark registration, saying that the similarity would confuse consumers. \nE-Coffee has not yet responded to the complaint, the IPO's section chief Chang Hui-ming (張慧明) said. \nSince the investigation is still at an early stage, the IPO may require more than a year to reach a decision, Chang said. \nStarbucks in the US is reportedly also considering complaints against E-Coffee outlets in a number of other countries, including Hong Kong, China, Singapore, and Japan, where E-Coffee's trademark is registered. \nE-Coffee, which has more than 280 franchised outlets, denied that its logo is misleading or infringes upon Starbucks' trademark, according to a report in the Chinese-language media citing the company's president Sam Yen (顏文山). \n"We are not the only coffee store in Taiwan using a logo featuring dual circles," Yen is reported to have said. \nA number of coffee chain stores, including Barista Coffee (西雅圖咖啡) and IS Coffee (伊是咖啡), use circle motifs in their logos. \nE-Coffee's logo features a cup of steaming coffee, which is not at all similar to Starbucks' mermaid with curly hair, Yen said. \nYen said that E-Coffee will not settle the dispute unofficially, and does not rule out the possibility of filing a lawsuit if the IPO delivers an unfavorable ruling.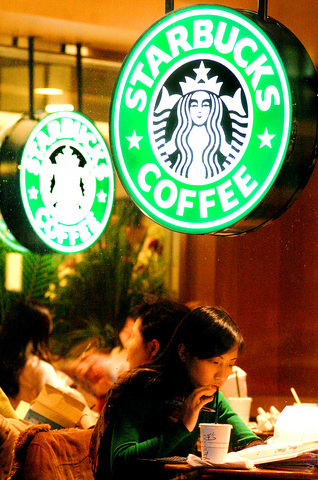 This composite picture shows consumers at Starbucks, left, and E-Coffee, right, getting a fix of their favorite brew in Taipei yesterday. Starbucks has lodged a complaint against its rival, claiming E-Coffee's logo infringes on its trademark copyright.
PHOTO: SEAN CHAO, TAIPEI TIMES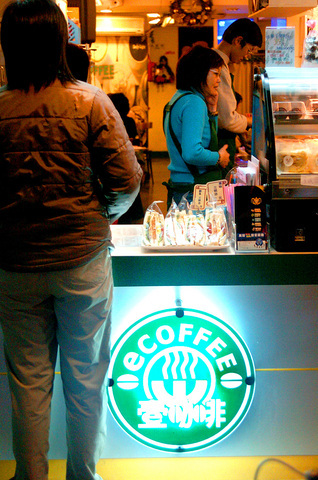 PHOTO: SEAN CHAO, TAIPEI TIMES
Comments will be moderated. Keep comments relevant to the article. Remarks containing abusive and obscene language, personal attacks of any kind or promotion will be removed and the user banned. Final decision will be at the discretion of the Taipei Times.