Karaoke machine inventor not looking back
IT'S YOUR SONG The device was invented by a musician when he was a fumbling keyboard artist accompanying customers at a club in Kobe, Japan
Daisuke Inoue could be a billionaire if he had only filed a patent for his invention three decades ago -- the karaoke machine, which has opened up the prospect of stardom, however fleeting, to millions of musical wannabes. \nInstead, the man whose creation has become a US$7.5 billion-a-year industry in Japan alone has designed gadgets to wash clothes and kill insects as he tries to put his finger on the next sensation. \nNow aged 64, Inoue said he came up with the device that would become a worldwide social lubricant when he was a fumbling keyboardist accompanying customers at a club in the western Japanese city of Kobe. \n"A driving force [for the invention] was my laziness as it was hard to master new songs one after another," Inoue told reporters in an interview. \nInoue, with a smooth deep voice, graying slicked-back hair and a ponytail, has never been able to read music even though he started earning money as a drummer when he was 16. \n"Accompanying tone-deaf singers was no problem. What was toughest for me was to remember by heart several new songs every month because I couldn't read music," said the inventor of karaoke. \nInoue first got the idea for a karaoke machine in 1971 after a club customer asked him to join him on a weekend company trip as he wanted to sing to Inoue's keyboard. Inoue could not skip work at the club, so he made a tape of instrumental music for him. \nLater that year, he invented the original karaoke machine, called "8 Juke," based on a car stereo and equipped with a microphone, amplifier and coin box that played music recorded on eight-track cartridge tapes. Inoue was 31 at the time. \nThe machine proved to be an instant hit. \nThough rival devices by firms such as Daiichikosho, now the top karaoke company, appeared within three years, Inoue saw 12 good years selling tape-based karaoke machines. \nHis company's fortune waned with emerging laser disc-based machines in the mid-1980s. He survived by turning the company from a karaoke machine maker to a trading firm. \n"I went to Daiichikosho with which we had been battling fiercely and asked them to let us handle their machines," Inoue said. \nHis company came to boast annual sales of ?10 billion (US$95 million). But the lifestyle proved too much for Inoue. \n"It was luxury-induced depression. I had been a salesman talking directly to customers but was suddenly given a monthly salary of ?3.5 million and no real job," he said. \n"I began to suffer head-aches and was unable to move to go to office," he said, recalling the months in the early 1990s he served as nominal "chairman" of the company. \nHe broke out of his depression by leaving the company, running around with his dogs and establishing an industry group to promote his invention, the All-Japan Karaoke Industrialist Association. \nHis latest invention is the "New Aqua Trio" pot which is purported to electrolyze water for washing laundry, cleaning dishes and even rinsing mouths without detergent or chemicals. \nCosting ?399,000 (US$3,800), the home-use pot is touted to bring about "a cleaning revolution." \nAnd this time, Inoue has wisely decided to patent the product, both in Japan and internationally.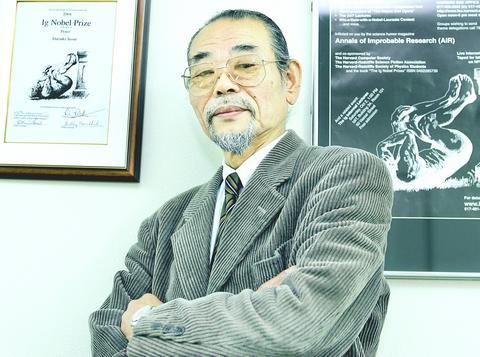 Daisuke Inoue, known as inventor of karaoke, stands in front of his 2004 Ig Nobel peace prize, awarded from Harvard-affiliated science humor magazine the ``Annals of Improbable Research,'' at his office in Nishinomiya city near Osaka, Japan, Tuesday. Inoue first got the idea for a karaoke machine in 1971 when he was 31 years old.
PHOTO: AFP
Comments will be moderated. Keep comments relevant to the article. Remarks containing abusive and obscene language, personal attacks of any kind or promotion will be removed and the user banned. Final decision will be at the discretion of the Taipei Times.