Shanghai raises hot-weather signal
China's commercial hub of Shanghai hoisted its "black signal" hot weather warning for the second time this week after temperatures reached their highest levels again this year, prompting the government to cancel some outdoor activities.
The temperature in Shanghai reached 38?C on Saturday, the Shanghai government said on its Web site. The government hoisted its "black signal" for the first time this year on last Friday. Temperatures in the city yesterday averaged 37?C, the government said.
"Temperatures are likely to remain high even though some rains are forecast in the next two to three days," the government said.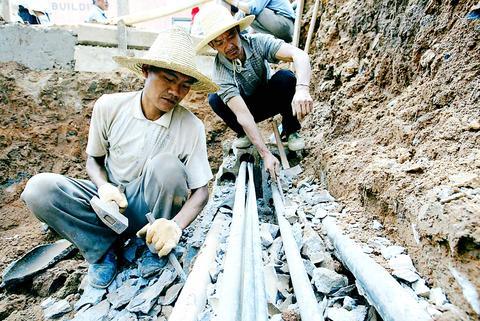 Chinese workers build a foundation on a construction site in Kunming, Yunnan Province, yesterday. China's leaders claimed as recently as Friday that recent measures to cool down the overheating economy -- which has been growing at near double-digit figures for years -- has kept the economy on the right track. Slowing down bank loans for large construction projects has been one of the key sectors of the economy targeted by reforms.
PHOTO: EPA
China, the world's second-biggest energy market, will face a power shortfall of as much as 30 million kilowatts in the third quarter of this year, according to the China Electricity Council, as economic growth that's running at more than 9 percent spurs demand.
Shanghai's electricity demand on Friday rose to 15 million kilowatts, the highest this year, as offices and homes turned up their air-conditioners to beat the heat, the government said. To reduce strain on Shanghai's power grid, the city's government ordered a batch of 200 companies to shift working hours to the evening, joining 2,000 others that are already doing so, the South China Morning Post said yesterday.
Sony Corp, the world's second-biggest consumer electronics maker, said Friday it will stop work at one of its two Shanghai plants next week to help the city save power.
Volkswagen AG's Shanghai venture said it has halted production for several days at a time since mid-July because of the power shortage. General Motors Corp said Tuesday its Shanghai venture shut down for 11 days for annual maintenance.
Meanwhile, the energy-hungry nation may face a shortage of 250 million tonnes of crude oil by 2020 as local production may meet only 44 percent of demand, China Oil News said, citing a Xinhua news agency report.
China's consumption of crude oil may reach 450 million tonnes by 2020, with local output at 200 million tonnes, the report said, citing Chen Geng (陳耕), president of China National Petroleum Corp (中國石油天然氣集團). The country's demand for gasoline, diesel and kerosene may total 260 million tonnes by 2020, the report said.
China's oil companies face challenges including lack of domestic crude oil stockpiles, increasing difficulties in finding new sources of oil and the lack of new technology to boost output at its refineries, the report said. China's refineries are now operating at 90 percent of their capacities to meet the country's demand for fuels, Chen was cited as saying.
China, the world's biggest oil consumer after the US, may consume about 6.29 million barrels a day this year, an increase of 15 percent, the International Energy Agency said. The country imported 57 percent more oil products in the first half of the year, while rising prices saw the bill climb 66 percent to US$4.5 billion, according to customs figures.
Among other products, ethylene demand in China may double to 23 million tonnes by 2020, Chen was cited as saying. China would need to import 40 percent of its ethylene to meet demand by then, the report said.
China's natural gas output is expected to rise to 120 billion cubic meters by 2020, from 34 billion cubic meters, the report said. Gas demand may rise to 200 billion cubic meters from 30 billion cubic meters, it said.
Energy conservation could help resolve part of China's energy shortages, Chen was cited as saying.
Comments will be moderated. Keep comments relevant to the article. Remarks containing abusive and obscene language, personal attacks of any kind or promotion will be removed and the user banned. Final decision will be at the discretion of the Taipei Times.