Branding is key to success, says Giant executive
SHIFTING GEARS The chairman of Taiwan's top bicycle manufacturer said the key to his company's growth was switching from OEM production to developing its own brand
In the face of overwhelming competition from Chinese original-equipment manufacturers (OEMs), Taiwanese companies should speed up developing globally recognized brand names to survive, King Liu (劉金標), chairman of Giant Manufacturing Co (巨大機械), said yesterday.
"We started our own brand 18 years ago, when most Taiwanese OEMs were still doing devoted manufacturing," Liu said in a key- note speech to a seminar sponsored by Chinese-language business monthly Common Wealth magazine yesterday.
"But we still feel lonely on this road," he said.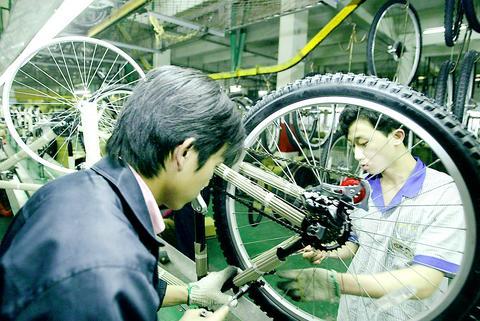 Workers assemble bicycles on a production line at a Giant Bicycle factory in China in this file photo from March 11. Giant chairman King Liu said that more Taiwanese companies must develop their own global brands to remain competitive.The company exports 1.5 million bicycles to Europe, Asia and North America annually.
PHOTO: EPA
The nation's top bicycle manufacturer was a key OEM provider for several well-known brands until 1986, when it decided to create its own brand after one of its main foreign clients suddenly shifted orders to another manufacturer.
That crisis forced Giant to remake itself at a time when "made in Taiwan" was a symbol of low-quality products -- but it also proved to be a turning point for the Taichung-based manufacturer, Liu said.
According to international brand consultancy firm Interbrand, Giant has a brand value of US$210 million and ranked as the sixth most valuable brand in the country last year, after Trend Micro, ASUS, Acer, Master Kong and MAXXIS.
Well-known brands make products more marketable, so even when Giant put a US$10,000 price tag on its most luxurious bike, they sold out in a short time, Liu said, adding that the largest benefit of a well-known brand is developing loyal customers who stick to the products.
"When I was in our outlet in Shanghai, a customer told me that Giant bicycles are the most commonly stolen bikes," Liu said, laughing. "Her son has lost seven Giant bikes, yet he still wants a Giant."
Giant has established two manufacturing plants in China since 1993, one in Kunshan, Jiangsu Province, and the other in Pudong near Shanghai.
Even though many local OEMs are aware of the importance of branding after seeing orders being snatched away by cheaper Chinese counterparts, few have taken any practical action and most have just moved their factories to China to save money, Liu said.
"But creating a brand name is the direction to take," he said.
Liu suggested that companies intending to develop their own brands change their company strategy first and work to improve their products on a day-by-day basis to motivate them to innovate.
Eventually, they will come up with unique products, Liu said. Of course, successful products should be combined with good marketing strategies, distribution channels and after-sales service in order to develop a dependable brand, he said.
Liu stressed the importance of the massive Chinese market, saying it is the world's supply hub with companies from all over the world as well as Chinese firms battling to grab a slice of the pie.
Giant sees China as its most important market and it is establishing its third manufacturing plant there in Chengdu, Sichuan Province, in an effort to meet increasing market demand.
"Having our own distinguished brand name is the sharpest weapon [for Taiwanese companies], especially since `made in Taiwan' is now a symbol of higher value-added products," Liu said.
Comments will be moderated. Keep comments relevant to the article. Remarks containing abusive and obscene language, personal attacks of any kind or promotion will be removed and the user banned. Final decision will be at the discretion of the Taipei Times.