Dai-ichi Life shares rise 14% on IPO
Shares in Japan's Dai-ichi Life Insurance Co rose 14 percent on their debut yesterday at the Tokyo Stock Exchange in the world's biggest initial public offering (IPO) in two years.
The country's oldest and second-biggest insurer traded at ¥160,000 (US$1,700) against an IPO price of ¥140,000, giving it a market capitalization of more than US$17 billion.
The Tokyo-based company, previously a mutual corporation owned by its 8 million customers, decided to list to secure funds for investment in domestic and overseas operations.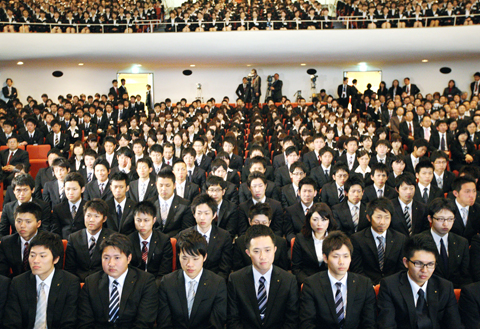 Newly hired Dai-ichi Life Insurance Co employees take part in the company's entrance ceremony in Tokyo, Japan, yesterday.
PHOTO: BLOOMBERG
Facing a declining home market because of Japan's aging and shrinking population, Dai-Ichi is looking to expand into emerging Asian markets such as India, Thailand and Vietnam.
Given the size of the offering, the Tokyo Stock Exchange made the unusual move of not letting prices fluctuate during the first day of listing.
Instead, purchase and sales orders were accepted between 8am and 1pm and orders then executed in block to determine the share price, before trading was suspended for the rest of the day.
About 7 million shares were placed on the market, while 3 million securities were distributed to existing policyholders.
Dai-ichi Life, set up in 1902, is Japan's oldest mutual life insurer, and the second-largest after Nippon Life Insurance Co.
The company's newly appointed president, Koichiro Watanabe, said in an interview in Tokyo that the life insurer would concentrate on countries such as China, where it has set up offices in Beijing and Shanghai and may start selling insurance by 2012.
"We want to aggressively expand our business in Asia, because there is a huge potential in the region for growth," said Watanabe, 56. "De-mutualization is an important step for us to take in achieving that goal."
Dai-ichi will pay a dividend in the first year to meet the demands of investors, Watanabe said.
"We have understood the interests of our investors throughout the IPO process and realize the importance of becoming a transparent company," Watanabe said.
"At the same time, we have noticed that investors have a limited understanding of Japan's insurance market, giving us a chance to prove what we can do," Watanabe added.
The IPO was the world's largest since US financial services group Visa's US$19.7 billion offering in March 2008.
It is also Japan's biggest since Nippon Telephone and Telegraph released shares in mobile operator NTT DoCoMo in 1998, which came to ¥2.1 trillion.
Comments will be moderated. Keep comments relevant to the article. Remarks containing abusive and obscene language, personal attacks of any kind or promotion will be removed and the user banned. Final decision will be at the discretion of the Taipei Times.