ANALYSIS : Open skies, budget travel fuel Asian airline profits
The boom in low-cost travel and a growing web of open-skies agreements are expected to power long-term growth for Asian airlines after the global recession, industry bosses and analysts said.
Participants in the Singapore Airshow, which ended yesterday, expressed optimism that the region, particularly China, will lead the rest of the world to recovery after the most harrowing year in global travel.
The world aviation industry lost an estimated US$11 billion last year after a financial crisis that began in the US grounded travelers and forced airlines to cancel or defer plane orders.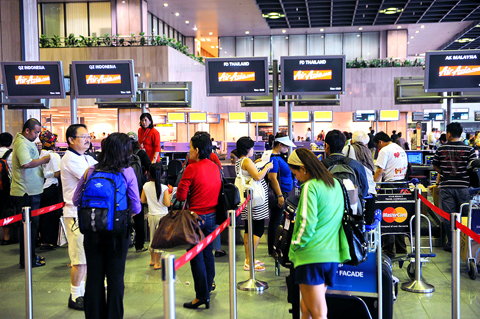 Passengers line up to check in at the AirAsia counters at Singapore's Changi Airport on Saturday.
PHOTO: AFP
Organizers of the Singapore Airshow said US$10 billion worth of contracts were done during the event, down from US$13 billion in 2008.
"We look forward to the market picking up further as the industry rides the upturn," said Jimmy Lau, managing director of the show, Asia's biggest civilian-military aerospace conference and exhibition.
Top aircraft makers Boeing and Airbus say Asia will be the world's biggest airplane market in the next 20 years, with orders expected to surpass 8,000 passenger and cargo planes worth more than US$1 trillion.
A key demand driver is the explosion in budget air travel.
This has allowed many ordinary Asian families to travel by plane for the first time because of dirt-cheap fares and services to more destinations outside capital cities, ending the dominance of big national carriers.
By the latest count, there are at least 45 low-fare airlines across Asia from Japan to Pakistan. Unlike premium airlines, many of them managed to soar above the economic turbulence.
Singapore budget carrier Tiger Airways announced it has brought forward the delivery of another four Airbus A320s to next year instead of 2016, bringing to nine the number of planes whose delivery has been accelerated.
The carrier, which started flying in 2004, also announced it had flown its 12 millionth passenger — less than two months after the 11 million mark.
Garuda president and chief executive Emirsyah Satar said the Indonesian flag carrier expects to launch a budget offshoot.
John Leahy, Airbus chief operating officer for customers, said that last year Asian budget carriers flew an average 1,800km per flight to 576 airports, up from 2001 when they averaged 700km to 48 airports.
"If you put that together, you can see a growth rate compounding of almost 40 percent a year," he said.
Market liberalization is the other growth engine, with the opening of new routes between secondary destinations, especially in China, India and Southeast Asia, enabling more people to travel by air.
"Asian aviation will not reach its potential if the airlines are constrained to old ways of doing business," said Giovanni Bisigniani, director general of the International Air Transport Association (IATA).
IATA estimates that the global aviation industry's losses will narrow from US$11 billion last year to US$5.6 billion this year. Asia‑Pacific airlines' losses are forecast to fall from US$3.4 billion last year to US$700 million this year.
China and ASEAN, which have a combined population of 1.8 billion, are expected to conclude talks this year on a pact to further open up their aviation markets to each other.
Within ASEAN, the 10 member countries are looking at a deal allowing for maximum competition by 2015 as part of a regional free market.
Analysts and airline chiefs say Asia's fragmented geography and the lack of modern rail, road and sea links make airlines an attractive travel mode.
The region's population of more than 3 billion people also means there are enough passengers for competitors to share, they add.
Randy Tinseth, vice president for marketing at Boeing Commercial Airplanes, said opening up busy routes to more competition will make tickets even more affordable.
"When you have open skies, you have liberalization," Tinseth told reporters at the airshow. "It opens up a level playing field."
Comments will be moderated. Keep comments relevant to the article. Remarks containing abusive and obscene language, personal attacks of any kind or promotion will be removed and the user banned. Final decision will be at the discretion of the Taipei Times.