Asia declines for third week amid recovery doubts
SHOCK WAVES Mounting fears about government finances in Europe and bad news from the US affected markets across Asia, giving doomsayers much to discuss
Asian stocks fell for the third week on concern rising US job losses and mounting debt in Europe, combined with China's steps to cool its economy, would drag on the global economic recovery.
Mitsubishi Corp, which gets about 40 percent of sales from commodities, fell 3.2 percent as metal prices slumped. Toshiba Corp dropped 13 percent after Japan's biggest maker of memory chips cut its revenue forecast. Maanshan Iron & Steel Co (馬鞍山鋼鐵) retreated 4.5 percent in Hong Kong after the deputy governor of China's central bank said the government plans to curb overcapacity in industries including steel. Toyota Motor Corp sank 5 percent in record-high trading in Tokyo as the world's biggest carmaker faces its worst recall crisis.
"The doomsayers are having their day," said Roger Groebli, Singapore-based head of financial-market analysis at LGT Capital Management, part of a group that oversees about US$84 billion. "Markets are fragile and investors aren't differentiating."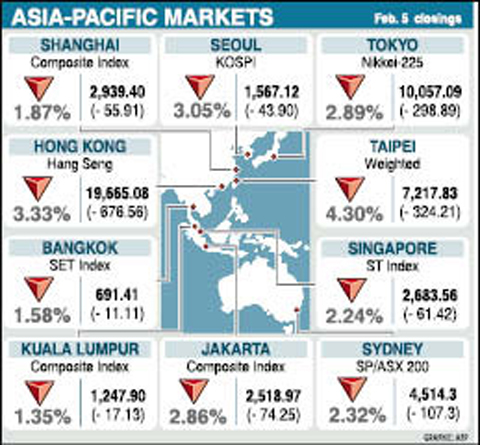 The MSCI Asia-Pacific Index dropped 1.8 percent to 114.68, the lowest close since Nov. 27. The gauge has fallen 9.5 percent from a 17-month high on Jan. 15 on concern central banks from China to India will tighten monetary policy to curb inflation.
The Nikkei 225 Stock Average declined 1.4 percent this week. Australia's S&P/ASX 200 Index fell 1.2 percent. Hong Kong's Hang Seng Index slumped 2.3 percent to below 20,000, and the Shanghai Composite Index lost 1.7 percent.
The MSCI Asia-Pacific Index rose 34 percent last year as growth in China helped the global economy emerge from the worst recession since World War II. The US Standard & Poor's 500 Index gained 23 percent last year, while Europe's Dow Jones STOXX 600 Index added 28 percent.
The gauge's third weekly decline occurred as more Americans unexpectedly filed first-time claims for unemployment insurance.
"The fear of a systemic risk and contagion once again is causing the current bout of risk aversion," said Prasad Patkar, who helps manage about US$1.5 billion at Platypus Asset Management in Sydney.
Toshiba slumped 13 percent to ¥430. The maker of semiconductors and nuclear-power plants cut its annual sales forecast last Friday by 5.9 percent, citing a global recession that's more "persistent" than the company had anticipated.
Mitsubishi Corp fell 3.2 percent to ¥2,118 in Tokyo as the London Metal Exchange Index of six metals declined 4.3 percent this week to Thursday, to its lowest level since Nov. 12. Rio Tinto Ltd, the world's third-biggest mining company, dropped 2.1 percent to A$66.60 in Sydney, while Aluminum Corp of China Ltd, the nation's biggest producer of the metal, lost 5.6 percent to HK$7.40 in Hong Kong.
Taiwanese share prices closed flat yesterday on continuing concerns over debt problems in Europe, dealers said. The TAIEX fell 4.96 points, or 0.07 percent, from Friday to 7,212.87.
Other markets on Friday:
Singapore shed 2.24 percent, or 61.42 points, from Thursday to close at 2,683.56. The fall was "the biggest pullback since the market started recovery from March 2009," AmFraser Securities head of retail research Najeeb Jarhom said.
Jakarta lost 2.86 percent, or 74.25 points, from Thursday to end at 2,518.97.
Wellington ended 1.40 percent, or 43.95 points, down from Thursday at 3,104.99.
Manila shed 2.03 percent, or 59.23 points, from Thursday to close at 2,855.64.
Mumbai fell 2.68 percent, or 434.02 points, from Thursday to 15,790.93, a three-month low.
Comments will be moderated. Keep comments relevant to the article. Remarks containing abusive and obscene language, personal attacks of any kind or promotion will be removed and the user banned. Final decision will be at the discretion of the Taipei Times.