Asia stocks post biggest annual gain since 2003
REGIONAL RALLY Stocks in Taiwan are expected to gain in the week ahead on positive sentiment after the TAIEX advanced 78.3 percent over the past year
Asian stocks rose for the second week, capping the MSCI Asia-­Pacific Index's biggest annual gain since 2003, after China raised its economic growth figures and Japan said industrial production increased.
"The global economy is just about bottoming out," said Masaru Hamasaki, chief strategist at Tokyo-based Toyota Asset Management Co, which oversees the equivalent of US$14 billion. "I don't expect huge economic growth, but I do see things recovering."
The MSCI Asia-Pacific Index rose 0.7 percent to 120.45 in a holiday-shortened week. The gauge climbed 34 percent last year, its biggest annual gain since 2003, on signs government spending and lower interest rates are bolstering economies.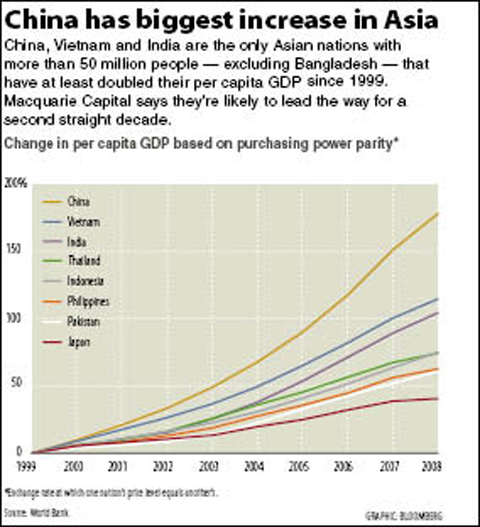 Japan's Nikkei 225 Stock Average rose 0.5 percent in the country's three-day trading week, after factory output increased in November from October and the government said on Dec. 25 that gross domestic product will probably expand 1.4 percent in the year starting April 1.
The Nikkei 225 has plunged 73 percent since it climbed to an intraday record of 38,957.44 on the final business day of 1989, the world's worst performer in the period. Japan's broader TOPIX index rose 5.6 percent this year, the lowest return among benchmark equity gauges for the world's 10 largest markets.
Hong Kong's Hang Seng Index and Australia's S&P/ASX 200 Index both climbed 1.7 percent this week.
The Shanghai Composite Index advanced 4.3 percent this week as China raised its 2008 growth estimate to 9.6 percent from 9 percent on Dec. 25, and said last year's quarterly figures will also increase.
"Consumer stocks are good bets as they will receive most of the government support next year," Wei Wei, an analyst at West China Securities Co in Shanghai, said on Monday. Chinese central bank Governor Zhou Xiaochuan (周小川) said on Thursday the People's Bank of China would maintain a "moderately loose" monetary policy.
The Shanghai Composite Index rallied 80 percent last year as government spending and a credit boom helped the nation's economy recover from its steepest slump in more than a decade.
Taiwanese share prices are expected to see further upside in the week ahead on positive sentiment over the outlook for this year after the market gained 78.3 percent over the year, dealers said.
Foreign institutional investors are likely to rebuild their portfolios at the beginning of a new year, they said, adding high liquidity may continue to boost the market.
The market is expected to challenge 8,300 points or even go higher next week amid optimism over the global economic recovery. For the week to Thursday, the weighted index rose 215.52 points, or 2.70 percent, to 8,188.11 after a 2.82 percent increase a week earlier.
"After the market stood above the key 8,000 point level (for the first time since mid-June 2008) earlier this week, more and more investors are looking into a good 2010," Grand Cathay Securities Corp (大華證券) analyst Mars Hsu said.
Comments will be moderated. Keep comments relevant to the article. Remarks containing abusive and obscene language, personal attacks of any kind or promotion will be removed and the user banned. Final decision will be at the discretion of the Taipei Times.