Wall Street grapples with rate concerns
POSITIVE, BUT SUBDUED US markets slumped at the close of a turbulent year on Thursday, but settled only slightly below 52-week highs with strong gains for the year
Wall Street enters the first trading week of the year on a bullish note, but the market remains dogged by concerns on the timing of any interest rate hike by the Federal Reserve amid economy recovery.
The US central bank may shed some light on how the central bank will unwind its unconventional monetary policy that helped jolt the world's largest economy from prolonged recession.
Fed Chairman Ben Bernanke is scheduled to speak to the American Economic Association forum in Atlanta tiday, while the minutes of the Dec. 15-16 Fed policy-­making body meeting will be released on Wednesday.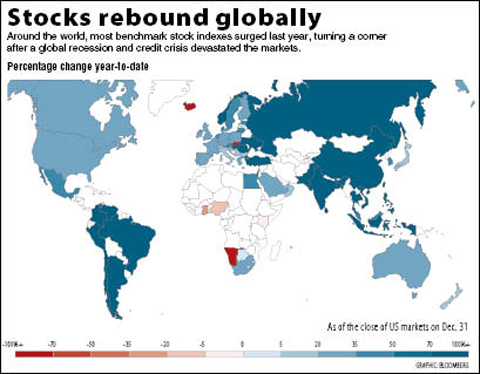 They could provide more detailed clues on the Fed's updated outlook for the economy and evolving plans for an eventual "exit" strategy from virtually zero interest rates, with the market flush with liquidity.
"We still expect the Fed to stick to its guns on the current low-interest policy through at least the first half of 2010," said IHS Global Insight US economists Brian Bethune and Nigel Gault in a joint report.
They cited both inflation and output, which were "running below the Fed's target," as well as tight credit conditions and constrained demand for credit.
Wall Street stocks slumped at the close of a turbulent year on Thursday, after positive jobs data sparked concerns that interest rates may rise sooner than anticipated.
However, shares settled only slightly below their 52-week highs with strong gains for the year.
For the holiday-shortened week, the blue-chip Dow Jones Industrial Average lost 0.9 percent to 10,428.05, but gained 18.82 percent over the course of the year.
The technology-rich NASDAQ composite shed 0.7 percent for the week to 2,269.15 and the broad-market Standard & Poor's 500 index retreated 1 percent to 1,115.10.
The NASDAQ index racked up the largest percentage gain for the year, wrapping up the year with a 43.9 percent jump, while the S&P 500 index jumped 23.5 percent.
Analysts are confident the market will continue its ascent, considering the 2.2 percent US economic growth chalked up in the July-September period — the first quarter of recovery after a year of contraction — as well as rising existing-home sales and durable-goods orders.
For the week, bonds were mixed. The yield on the 10-year Treasury bond rose to 3.843 percent from 3.807 percent a week earlier while that on the 30-year bond dipped to 4.641 percent from 4.687 percent. Bond yields and prices move in opposite directions.
Comments will be moderated. Keep comments relevant to the article. Remarks containing abusive and obscene language, personal attacks of any kind or promotion will be removed and the user banned. Final decision will be at the discretion of the Taipei Times.