Barclays earnings up 10% in first half
MIXED RESULTS Although the British bank saw net income increase to £1.89 billion, boosted by thawing credit markets, the figure still fell short of analysts' expectations
Barclays Plc said yesterday first-half earnings rose 10 percent after profit from investment banking almost doubled.
Net income rose to £1.89 billion (US$3.16 billion), from £1.72 billion a year earlier, the London-based bank said yesterday in a statement. That missed the £2.2 billion average estimate of five analysts surveyed by Bloomberg.
Barclays earnings were boosted by thawing credit markets after the company's September purchase of Lehman Brothers Holdings Inc's North American unit, formerly the biggest US bond trader. Investment banking also lifted second-quarter profit at Goldman Sachs Group Inc, Deutsche Bank AG and Credit Suisse Group AG as revenue from trading increased.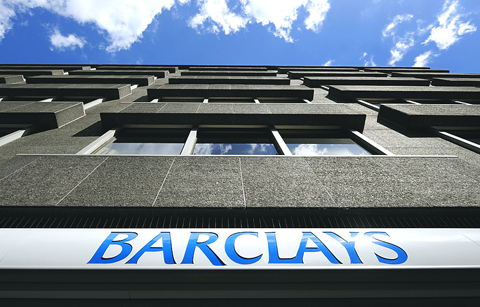 The Barclays logo is pictured at a branch in London, England, on Friday. Barclays, Britain's second-biggest bank, booked first-half earnings below analysts' estimates.
PHOTO: BLOOMBERG
Profit at Barclays Capital, the lender's securities unit, rose to £1.05 billion from £524 million in the first six months of the year.
"There's been a clear concentration of market share amongst the winners, like Deutsche Bank, JPMorgan, Credit Suisse and Barclays," said Ralph Brook-Fox, a fund manager at Glasgow-based Ignis Asset Management, before the results were announced.
"That looks set to continue," said Brook-Fox, who helps manage £4.5 billion in UK equities, including Barclays shares.
The bank's UK retail division posted a gain of £268 billion, compared with £690 billion a year earlier as competition for retail deposits increased pressure on margins and rising unemployment boosted bad debts.
Barclays is the first of the five biggest UK banks to release earnings for the period.
Barclays is the second-best performer on the Bloomberg Europe Banks and Financial Services Index since March 9, the day financial shares began to rebound. The stock has increased five times since then, trailing only Bank of Ireland Plc.
Varley profited from his decision to expand investment banking at a time when his British rivals are focused on cutting costs to help repay government bailouts. Paul Parker, Barclays' global head of mergers and acquisitions, said in May the company intends to become one of the three leading securities firms across all regions and product lines.
Barclays Capital beat New York-based JPMorgan and HSBC to maintain its position as the world's biggest underwriter of bond sales during the period, according to data compiled by Bloomberg.
The bank backed US$211 billion of offerings, compared with US$171 billion a year earlier.
The Lehman purchase helped make Barclays the world's sixth-biggest mergers and acquisitions adviser this year, up from 65th in 2007, Bloomberg data show.
Morgan Stanley, Goldman Sachs and JPMorgan are the top three.
Barclays refused to follow RBS and Lloyds in accepting a taxpayer-funded bailout last October, and then opted out of the state asset protection program in March. That allowed it to avoid handing over a stake to the government.
Instead, the company sold £5.3 billion in stock and convertible notes, or 32 percent of its equity, to the Qatar and Abu Dhabi sovereign wealth funds. Qatar Holding LLC, sold 35 million Barclays shares in June, making a £1.5 billion profit in seven months. Qatar still owns 10.2 percent of Barclays through two investment vehicles, making it the bank's largest shareholder, a July 6 statement said.
Barclays agreed in June to sell its fund management unit, Barclays Global Investors, to New York-based BlackRock Inc for US$13.5 billion to boost its capital further.
Barclays' core Tier 1 capital ratio will rise to 8.8 percent after the BGI deal, the bank said yesterday.
It was 5.6 percent at the end of last year.
The BGI sale will cost Barclays a division that generated 15 percent of the group's profit while offloading 1 percent of its risky assets, said Sandy Chen, a London-based analyst at Panmure Gordon & Co, who has a "sell" rating on the stock.
Also See: HSBC reports 57% fall in profit for first half of year
Comments will be moderated. Keep comments relevant to the article. Remarks containing abusive and obscene language, personal attacks of any kind or promotion will be removed and the user banned. Final decision will be at the discretion of the Taipei Times.