BlackRock to buy BGI for US$13.5 billion
SUBJECT TO APPROVAL The purchase would double the US asset manager's size, creating a company of 9,000 people managing US$2.7 trillion in 24 countries
US asset manager BlackRock announced on Thursday it was buying Barclays Global Investors (BGI), the investment arm of British bank Barclays, for US$13.5 billion.
The purchase — which is still subject to approval by Barclays shareholders — would double BlackRock's size and create a firm managing assets worth some US$2.7 trillion, employing more than 9,000 people in 24 countries, the New York-based investment group said.
In the deal, including BGI's market-leading iShares trading platform, BlackRock would acquire BGI for US$6.6 billion in cash and US$37.8 million in shares.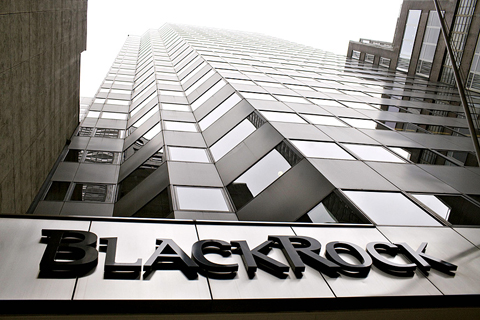 A BlackRock logo hangs above the entrance to the BlackRock Inc headquarters building in New York on Tuesday.
PHOTO: BLOOMBERG
"The shares will represent a 4.9 percent voting interest and an aggregate 19.9 percent economic interest in the combined firm, which will be renamed BlackRock Global Investors," the statement read.
"The combination of BlackRock and BGI would bring together market leaders in active and index strategies to create the preeminent asset management firm," the company said.
The transaction "would create an independent and fully integrated asset management firm with combined assets under management of over US$2.7 trillion."
BGI, one of Barclays' most valuable branches with some US$1.5 trillion in assets under management, has attracted interest from several buyers since April, but in recent days BlackRock was reportedly the favorite to swoop in for the deal.
If finalized the transaction would provide a valuable influx of cash for Barclays, which has hoped to strengthen its capital without resorting to assistance from the British government — something the bank has avoided so far during the world economic crisis.
"We are incredibly excited about the potential to significantly expand the scale and scope of our work with investors throughout the world," BlackRock CEO Laurence Fink said in a statement. "The combination of active and passive investment products will be unsurpassed."
He said that the expanded firm "will remain at the forefront of addressing key investment issues and trends that have emerged over the past decade and are now accelerating dramatically."
These include "globalization of capital markets, a greater focus on asset allocation" plus "fiduciary management, risk management and advisory services."
Blake Grossman, the current BGI chief executive, will stay on to serve as a vice chairman of the combined firm, Fink said.
"The two firms mesh well, and I have every confidence we will smoothly integrate into one organization," Grossman said in the statement.
Barclays in April agreed to sell iShares to private equity group CVC Capital Partners for US$4.4 billion to help the bank avoid having to join a government insurance scheme for risky assets.
However Barclays has the right to break the deal and sell to a third party up until late this month.
Comments will be moderated. Keep comments relevant to the article. Remarks containing abusive and obscene language, personal attacks of any kind or promotion will be removed and the user banned. Final decision will be at the discretion of the Taipei Times.