Clinton highlights goods economy
The best solution to the global financial crisis is to revert to an economy of goods and services that is based less on finance, former US president Bill Clinton said on Saturday.
"I believe the best outcome for us would be a 21st century economy in which more money is made in the production of goods and services and less money is made in finance," Clinton said at a meeting with Inter-American Development Bank (IDB) president Luis Alberto Moreno.
In such an economy, "people make money in finance the old-fashioned way, by making investments in products that people want to buy, but not by building sand castles in the sky," he said.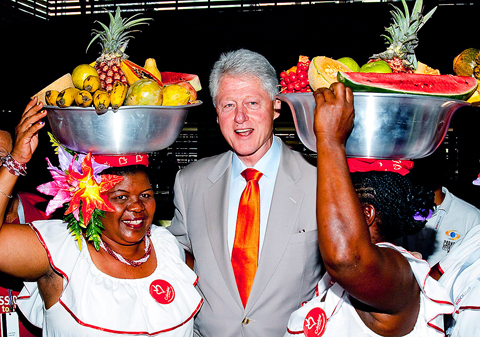 Former US president Bill Clinton poses with Colombian fruit vendors at the 50th Inter-American Development Bank (IDB) annual meeting on Saturday in Medellin, Antioquia Department, Colombia.
PHOTO: AFP
Clinton, the guest of honor at the IDB's 50th anniversary celebrations in the northwestern Colombian city of Medellin, backed US President Barack Obama's plans to revive the battered US economy and chart new rules for financial oversight.
"I believe that President Obama's approach has been basically correct. I support his economic stimulus package, even though he has had to borrow money. I hate that," Clinton said.
Clinton, who served as president for eight years starting in 1993, said he began to worry about the US economy "several years ago, when it became obvious, with the Internet bubble burst, that there was no real economic growth in America except in housing and consumer spending, and finance."
Comments will be moderated. Keep comments relevant to the article. Remarks containing abusive and obscene language, personal attacks of any kind or promotion will be removed and the user banned. Final decision will be at the discretion of the Taipei Times.