IBM expected to cut 5,000 jobs
CHEAPER OPTIONS The move reflects the company's aggressiveness in shifting labor to countries like India and keeping profits up at a time when some rivals are struggling
IBM Corp plans to lay off about 5,000 US employees in a new round of job cuts, a source said.
The move reflects IBM's aggressiveness in shifting labor to lower-cost regions like India and keeping its profits aloft at a time when other technology companies' earnings are tumbling.
An IBM manager knowledgeable about the plans said the cuts would come from the services division and workers were to be informed yesterday.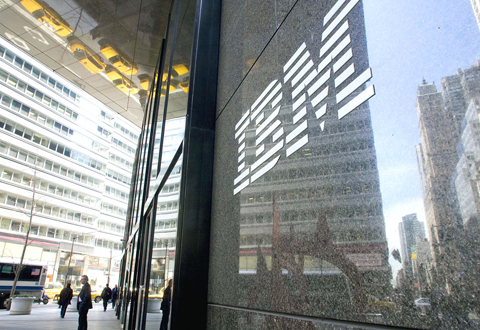 The IBM logo hangs at an office building in New York on Wednesday. IBM, the world's biggest computer-services provider, was expected to cut about 5,000 jobs, starting yesterday, from its US workforce.
PHOTO: BLOOMBERG
The person spoke on condition of anonymity on Wednesday because he was not authorized to discuss the plan publicly.
The layoffs were reported earlier by the Wall Street Journal.
The cuts will affect about 4 percent of IBM's US-based work force, which totaled 115,000 at the end of last year.
In a sign of how quickly IBM is staffing up in emerging markets, last year IBM had nearly as many workers in Brazil, China, India and Russia — 113,000 — as it did in the US.
IBM now has about 400,000 employees worldwide.
The Journal reported last week that IBM was in talks to buy computer server company Sun Microsystems Inc and the Indian press has reported that IBM may be interested in fraud-hit software services exporter Satyam Computer Services.
India's Economic Times said yesterday the board of Satyam had short-listed about eight bidders, including IBM and private equity firm Apax Partners, for buying the fraud-hit outsourcer. IBM has registered its interest through a law firm, it said.
Unlike many other tech companies that have recently announced layoffs, IBM has managed to become more profitable despite the recession.
IBM's cost-cutting, global footprint and focus on services and software, which are often more lucrative than hardware, are key reasons why.
IBM's net income was up 18 percent last year to US$12.3 billion.
In January, Armonk, New York-based IBM cut thousands of US jobs in sales, software and hardware. IBM didn't give the precise number, saying it fell below an amount that would require disclosure.
Other tech companies are also doing big layoffs.
Hewlett-Packard Co is slashing 24,600 positions, or 8 percent of its 320,000-strong workforce, in a three-year restructuring as part of its acquisition of Electronic Data Systems Corp (EDS).
HP paid US$13.9 billion for EDS to compete against IBM for technology-services contracts.
Microsoft Corp said in January it was cutting 5,000 jobs — marking the first mass layoffs in the company's history — after profit in the latest quarter fell 11 percent to US$4.17 billion.
Comments will be moderated. Keep comments relevant to the article. Remarks containing abusive and obscene language, personal attacks of any kind or promotion will be removed and the user banned. Final decision will be at the discretion of the Taipei Times.