FEATURE : Foreclosure crisis sinks US luxury yacht market
On the sun-splashed Florida peninsula, the US foreclosure crisis is sinking lavish lifestyles on land and at sea as luxury yacht owners increasingly find themselves high and dry.
The listing for a recent attractive property swallowed up by the crisis appeared to be a sea-front condominium: two bedroom/two bath, outdoor grill, water views, elegant and spacious. Satellite TV and temperature-controlled wine cabinet included.
It was a 18.3m yacht, docked amid a crush of other luxury marine toys at a Fort Lauderdale boat yard.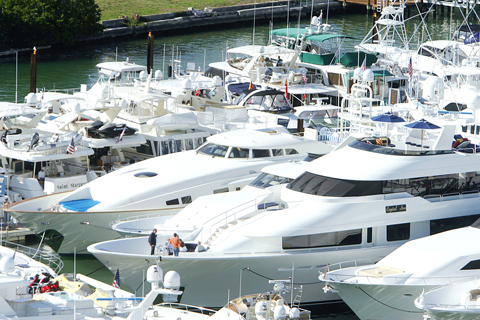 Luxury yachts are moored at the Miami Yacht and Brokerage Show in Miami Beach, Florida, on Feb. 19, 2007.
PHOTO: AFP
"We're busting at the seams," said Jason Lessnau, recovery manager for National Liquidators, the largest marine repossession company in the US.
The longer the mortgage crisis lasts, the more yachts end up in his boat yard — double and triple parked.
"Our sales numbers are up, our recovery numbers, every single number you can think of is through the roof for us right now," he said.
With its deflated real estate market, Florida has become emblematic of the US housing woes after the real estate bubble saw prices spike then collapse.
Now, as the recession deepens and home prices keep diving in value, the problem is creeping beyond homes and high-rises, and prompting a hike in boat foreclosures too.
Experts say many boat owners made the same mistakes as homeowners.
The easy credit that fueled the real estate boom also brought carefree spending and no-money-down loans for maritime toys. Boats tend to lose their value more quickly than cars, so many owners soon owed more than their boats were worth.
The economic slump pushed prices still lower, but the bills kept rolling in.
Boat owners usually fall behind on their payments when they are hit by job loss — another side-effect of the economic downturn — or divorce. Like car loans, boat loans allow the bank to recover its collateral if the owner defaults.
A stark measure of the trend comes right off resellers' inventory sheets. National Liquidator president Bob Toney says boat repossessions have nearly quadrupled over the last two years. He's leasing four additional boatyards to keep up.
"A 350 percent increase in business is not all fun and games," said Toney, who has seen many longtime clients and associates hurt by the downturn. "It creates some heartburn and stomach acid once in a while."
Toney has also noticed a shift in the size of the boats repossessed. National Liquidators typically receives repossession orders for boats between 6.1m and 11.5m in length. They range from flashy speedboats to weather-worn sailboats to sturdy cruisers.
But there are several luxury yachts in the yard these days, suggesting the rich are not insulated.
"We're seeing more 60 and 70-footers [18.3m and 21.3m] and a few in the mega-yacht field, 100-plus [30.5m]," Toney said.
"Some of those are owned by people you read about in the newspaper," he said.
About half of repossessed boats are turned over voluntarily by owners, sometimes stripped of valuable equipment, such as radar systems. The other half are "involuntary" transfers, meaning repossession teams tow them away quietly in the middle of the night.
Repossession teams usually arrive in low-profile dinghies.
One person sets up the tow lines while another cuts the boat free and a third person disconnects electrical lines. A seasoned repo team can tow a boat off a dock in less than 60 seconds.
Sometimes the boats still contain the trappings of yesterday's excess: discarded champagne bottles, drugs, a jet ski.
Lessnau, the recovery manager, said larger boats often end up overseas after auction — buyers with euros see especially deep savings.
"They can purchase at an instant discount and ship the boat back to Europe. That's still a strong market," he said.
Strolling through the boat yard, Fabienne Varela and her husband said even in dollar-terms they have seen prices slashed almost in half since the housing collapse.
While they feel bad for those losing their boats, "we're trying to take advantage of the economy," Varela said. "That's what [US President Barack] Obama says: spend, spend, spend."
Comments will be moderated. Keep comments relevant to the article. Remarks containing abusive and obscene language, personal attacks of any kind or promotion will be removed and the user banned. Final decision will be at the discretion of the Taipei Times.