Solar power group makes suprise bid for Opel
DAVID AND GOLIATH Many specialists did not know what to make of the bid, although one auto industry expert described it as a marketing gimmick and completely unfeasible
German solar power group SolarWorld took the struggling auto sector by surprise on Wednesday with a takeover bid for troubled General Motor's German car unit Opel.
"I could not be more serious," SolarWorld boss Frank Asbeck said. "We would not make this offer otherwise."
SolarWorld said it would pay 1 billion euros (US$1.26 billion) for Opel and create the "first green European automotive group" in a move that had analysts reaching for calculators and scratching their heads.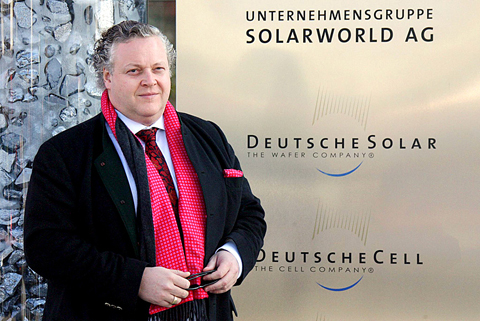 SolarWorld CEO Frank Asbeck stands in front of company offices in Freiberg, Germany on Feb. 28.
PHOTO: EPA
A statement said SolarWorld would offer 250 million euros in cash and 750 million euros in bank credit facilities for Opel's four auto factories and a key research center in Ruesselsheim, western Germany.
Its goal was "to produce a new generation of vehicles with energy-efficient, low-emission [engines] in the future," in addition to the current models.
It attached several conditions to the deal however, including a complete split of Opel from GM, which is threatened with bankruptcy, and compensation payments of 40,000 euros per Opel worker, which would approximately equal the 1 billion euro purchase price.
SolarWorld also sought a liquidity guarantee for Opel from the German government.
Opel was not in a position to immediately give a reaction, a spokeswoman said, and specialists did not quite know what to make of the bid.
"This is nonsense," IHS Global Insight analyst Christophe Stuermer said.
Auto expert Stefan Bratzel said: "At first sight it is a marketing gag. At second, the feasability of such an operation is zero."
Opel is trying to get through a rough patch and was obliged to ask German authorities for loan guarantees owing to slumping markets and problems at its parent company, which is threatened with bankruptcy.
But it is still much bigger than SolarWorld, which has never made anything other than solar power equipment, or ever invested in the auto sector.
The company had sales last year of 689 million euros and a staff of 2,500.
Opel's accounts are fully integrated into GM's and therefore not easily comparable but the group employs 26,000 people in Germany.
"Do you know the story of David and Goliath," Asbeck responded. "Size has never been a decisive factor."
Stuermer argued that "Adam Opel Germany has total assets of around 8 billion euros — SolarWorld's offer is ridiculous."
Investors appeared to feel the same way and SolarWorld's shares plummeted 13.98 percent to 13.85 euros in late trading on the Frankfurt stock exchange, while the TecDax index on which it is listed was off 4.52 percent overall.
Several experts pointed out that GM has never said it wants to sell Opel, though many in Germany see that as the best option for the local car maker.
"SolarWorld's offer is only possible within the framework of a break-up," Bratzel said. "And that would only happen if the US government said: 'Sorry GM, there is nothing we can do for you!' Nothing indicates that [that] is what will happen."
"It does not go well when you leap into the auto industry as a stranger," said Stuermer, who cited the case of Swatch inventor Nicolas Hayek who launched the Smart car more than a decade ago.
"In the long run it does not make sense," said Albrecht Denninghoff, an analyst at BHF-Bank.
He nonetheless saw in the bid a short-term solution for Opel's cash-flow problems but added: "SolarWorld would have to link up with a European or global manufacturer."
Meanwhile, the state parliament in western Hesse, where Ruesselsheim is located, approved on Wednesday 500 million euros in loan guarantees for Opel if GM goes bankrupt.
Comments will be moderated. Keep comments relevant to the article. Remarks containing abusive and obscene language, personal attacks of any kind or promotion will be removed and the user banned. Final decision will be at the discretion of the Taipei Times.