HK producer apologizes for toxic beads, Mexico Mattel destroys lead-tainted toys
A Hong Kong producer of toys that sparked huge recalls in the US and Australia apologized yesterday after several children slipped into a coma after swallowing toxic toy beads.
JSSY Ltd said in a statement yesterday that it had used a chemical, 1,4 butylene glycol, which could cause unconsciousness and coma when ingested by releasing a substance akin to a date-rape drug.
The toys were manufactured for Australia-based Moose Enterprises by Wangqi Product Factory -- a JSSY affiliate -- in Shenzhen, China.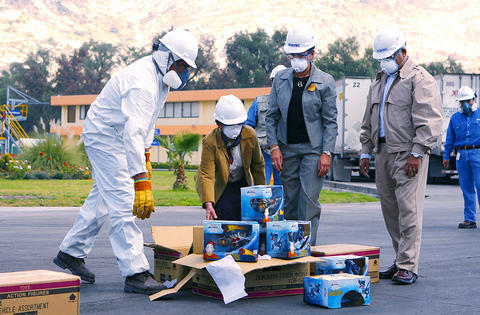 Mexican health authorities inspect toys manufactured by toy maker Mattel that exceeded the allowed lead content before destroying them at a toxic waste disposal plant in Apasco, near Mexico City, on Wednesday.
PHOTO: AP
JSSY said it had always used the substance on its toys, including samples given to Moose for testing.
The Hong Kong-based firm apologized to the children who fell ill after swallowing the beads, as well as to their parents and other consumers.
It also apologized for damaging the reputation of all "made in China" products.
"We have learned a profound lesson. Our company will strengthen the control of our safety analysis on the raw materials we use in future," it said.
Several million sets of the toys -- called "Aqua Dots" in the US and "Bindeez" in Australia -- have been recalled since the scare was revealed.
The US Consumer Product Safety Commission recalled 4.2 million units of Aqua Dots after two children fell into a coma after swallowing the toy distributed by Spin Master in Toronto, Canada.
Meanwhile, Mattel Mexico, the local arm of the world's largest toy maker, on Wednesday destroyed 175,000 lead-tainted toys taken from store shelves and factories throughout the country, just as the holiday shopping season kicks into gear.
The toys -- including race cars, action figures and colored plastic dragons -- had lead levels that exceed those allowed by law, said Juan Garcia Villa, director of Mexico's federal commission on product safety, known as Cofepris.
Mexico plans to strengthen laws that would stop lead-tainted toys from entering the country, Garcia Villa said.
Concerns over toy safety remain high after US-based Mattel Inc recalled more than 21 million Chinese-made toys earlier this year on fears they were tainted with lead paint and tiny magnets that children could accidentally swallow.
Mattel's own tests on the toys found that they had lead levels up to 200 times the accepted limit.
China is the world's top toy exporter, selling 22 billion products overseas last year, 60 percent of the world's total.
Comments will be moderated. Keep comments relevant to the article. Remarks containing abusive and obscene language, personal attacks of any kind or promotion will be removed and the user banned. Final decision will be at the discretion of the Taipei Times.