Asian music makers flock to world's biggest music trade show in Cannes
From dark gothic Taiwanese rock to Japanese bossa nova, Chinese classical crossover and Korean opera, the sounds of Asia are blasting this year's annual MIDEM music industry market.
As the digital music revolution that took off in Asia's digital power houses gains worldwide momentum, music, mobile and gaming industries in both East and West are hungering for a bigger slice of action in each other's territories.
And signs that China's potentially massive market is beginning to court foreign companies ahead of the Beijing Olympics has whipped up a buzz of anticipation across the trade floor of the world's premier music trade show.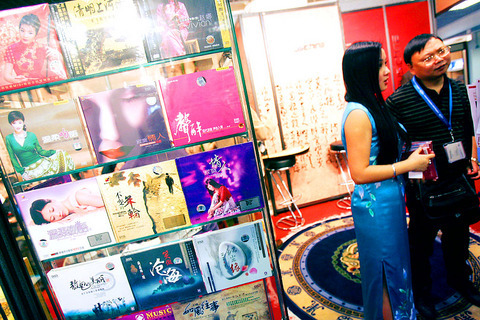 People visit a Chinese Music stand at the 41st MIDEM, the world's biggest music trade fair, in Cannes on Monday.
PHOTO: AFP
The world is now "looking to China as it develops and becomes a world power," China specialist Alastair Hunt of SWAT Enterprises said at a conference at MIDEM, which is seeing its largest Asian presence ever.
Japan, now the world's second-largest music market, is the biggest Asian attendee, with a pavilion hosting 127 companies.
But the spotlight has also turned to China, which has brought its largest official delegation ever to Cannes, with some 30 companies.
Still, with Internet and physical CD piracy rife across Asia, and in China in particular, the Western music world is extremely cautious about venturing into Asian markets.
The latest statistics from the International Federation of the Phonographic Industry (IFPI) say it all.
While digital music sales in the US, the world's biggest music market, clocked up US$635 million last year, they registered zero in China, the world's fastest growing economy.
Despite that, the IFPI report noted that new markets like China that were historically closed to legitimate business by ruinous levels of piracy now are offering the prospect of a "leap to digital."
Moreover, China appears to be battling hard to curb piracy and is keen to publicize the fact.
This will be a reassuring message for the music executives who have packed the large number of Asia-oriented conferences held in parallel to the hectic bread-and-butter business of buying and selling.
But they will probably also follow the advice of the experts to take their time to get to know their potential markets.
Meanwhile, live Asian groups are turning up the volume at the trade fair, with Taiwan in the limelight on Monday evening at a Taiwan Beat night.
A showcase for three totally different local acts, the gig could prove to be an international break for dark, gothic rockers Chthonic, refined electro artist Lim Giong (林強) and carnivalesque Hohak Band's mix of tribal music with modern sounds.
Comments will be moderated. Keep comments relevant to the article. Remarks containing abusive and obscene language, personal attacks of any kind or promotion will be removed and the user banned. Final decision will be at the discretion of the Taipei Times.