Vietnam's WTO entry to stir region
When China joined the WTO in December 2001, its entry sparked jitters and a round of reassessments among Southeast Asian economies that were then just limping back to life after the devastating 1997 financial crisis.
Five years on, Vietnam's pending WTO entry has triggered a new rash of regional jitters, although certainly less pronounced this time around.
Vietnam is the rising star in ASEAN. It has boasted one of the world's fastest-moving economies in recent years following the classic ASEAN/Chinese success story of fueling growth on low-cost labor, export-oriented industrialization and foreign direct investment.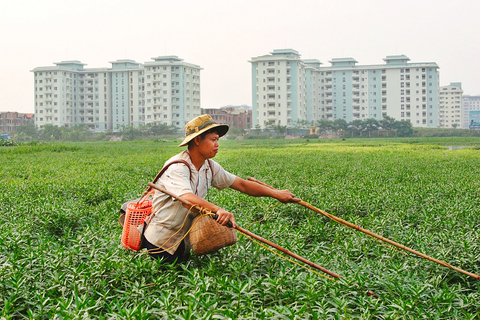 A a man searches for scrap metal next to a new housing complex in Hanoi, Vietnam, on Oct. 25. The WTO is set to accept Vietnam's membership tomorrow, making the communist nation the 150th member of the international trade body.
PHOTO: EPA
Entering the WTO will make Vietnam much more competitive when it comes to attracting investment away from ASEAN's former "little dragons" -- Indonesia, Malaysia, Singapore and Thailand.
And when its comes to attracting foreign investment, hype helps.
"For Thailand, it's not going to make it any easier," said Stefan Buerkle, head of business economics at the Thai-German Chamber of Commerce.
"Vietnam is a bit more sexy than Thailand, what with all the hype," he added.
Hype aside, Vietnam has made tremendous progress over the past decade in reducing its red tape, improving its business climate and generally putting out a more-welcoming welcome mat for investors.
With its entry into the WTO, the rest of the region will face stiffer competition for investment and trade, especially in labor-intensive industries such as footwear, garments and even electronics, adding to the pressure in these sectors are already coming under from low-cost giants China and India.
"The [electronics] sector is definitely being challenged from regional countries," said Ramya Subreameniem, economist with IDEAGlobal in Singapore.
Vietnam poses the prospect of more "hollowing out of computer peripherals," she said.
Singapore needs to continue concentrating on high-value products where it is doing well such as semiconductors, she noted.
Electronics factories produce nearly half of Singapore's non-oil domestic exports and account for 36 percent of the manufacturing sector.
Indonesia, where cheap labor continues to be a major selling point, can anticipate yet more competition from Vietnam as a WTO member, adding to the already stiff competition coming from low-cost China.
"If you're talking textiles and shoes, we're already threatened by China," acknowledged Chativ Basri, an economist at the University of Indonesia and sometimes advisor to Indonesian President Susilo Bambang Yudoyono.
Indonesia's once-prosperous shoe export industry, for instance, has been battered by slipping sales over the past five years after losing its competitive edge with China and up-and-coming Vietnam, while at the same time failing to move up the value-added chain.
Comments will be moderated. Keep comments relevant to the article. Remarks containing abusive and obscene language, personal attacks of any kind or promotion will be removed and the user banned. Final decision will be at the discretion of the Taipei Times.