KFC joins war against trans fat
The war against trans fat registered a major victory on Monday as Kentucky Fried Chicken (KFC) -- whose main course is deep fried -- announced that it would remove the artery-clogging substance from its fryers.
KFC said it would replace partially hydrogenated soybean oil with a type of soybean oil that does not contain trans fat at its 5,500 restaurants in the US.
The conversion, which came after two years of testing, is expected to be completed by April. While trans fat will be eliminated from KFC's chicken and its other fried products, it will remain in its biscuits, potpies and some desserts because a good alternative has not yet been found.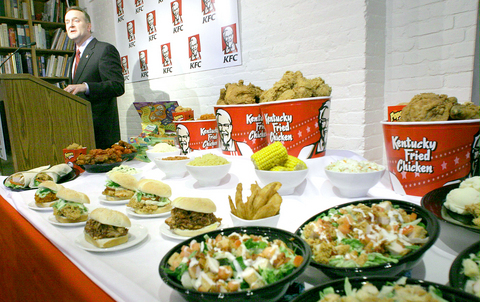 Gregg Dedrick, president of KFC Corp, speaks during a press conference in New York on Monday. KFC announced it is converting all of its 5,500 restaurants in the US to a zero grams trans fat cooking oil for signature products, including its famous original recipe fried chicken.
PHOTO: AP
Officials at KFC, a subsidiary of Yum Brands of Louisville, Kentucky, said the change in cooking oils would have no impact on the taste of its food.
By getting rid of trans fat in its cooking oil, KFC follows the lead of Wendy's International, the hamburger chain, which announced in June that it was eliminating trans fat from the cooking oil used at its US restaurants.
Public health advocates hailed KFC's decision as a major step in efforts to rid the US diet of trans fat. New York City and Chicago are considering regulations that would ban artificial trans fat from restaurants, and many food companies have eliminated trans fat from their products.
"The more companies change, Wendy's, then KFC, it's demonstrating to the restaurant industry that it's possible, that it's not some pie-in-the-sky dream," said Michael Jacobson, executive director of the Center for Science in the Public Interest.
Jacobson's group sued KFC in June, seeking to force the restaurant chain to quit using partially hydrogenated oils; his group withdrew from the lawsuit after KFC's announcement on Monday.
Partially hydrogenated oils contain trans fat, which is considered especially unhealthy because it raises levels of bad cholesterol while lowering good cholesterol, clogging arteries and causing heart disease.
As Jacobson noted, KFC's announcement could put pressure on other fast-food restaurants to eliminate trans fat from its cooking oil. The pressure may be particularly acute for McDonald's, which announced in 2002 that it was reducing trans fat in its cooking oil, but has since struggled to make the switch.
In a statement on Monday, Catherine Adams, McDonald's vice president for worldwide quality, food safety and nutrition, said the firm was "researching and testing oil alternatives and are encouraged with the progress we are making."
While McDonald's is committed to reducing trans fat significantly in its cooking oil, she said, "Our priority is to also meet our customer expectations for taste and quality."
David Palmer, an analyst at UBS Investment Research, said KFC's decision should reduce its litigation risks. As for McDonald's, he said there was considerable risk in changing the recipe for its French fries, given their revered status.
But he said there was also peer pressure and litigation risk for McDonald's if it does not get rid of trans fat. Palmer said that if competitors were doing something good for people, "you don't want to stick out as the one that is not acting."
In Taiwan, the fast-food chain's local representative yesterday said that it had made the switch in its fryers early this year.
According to Olga Wu (吳美君), managing director of Yum Restaurants (Taiwan) Co (台灣百勝肯德基), the company has been using non-hydrogenated oil with zero trans-fat acids at all of its 140 KFC outlets to conform with national safety standards.
additional reporting by Jackie Lin
Comments will be moderated. Keep comments relevant to the article. Remarks containing abusive and obscene language, personal attacks of any kind or promotion will be removed and the user banned. Final decision will be at the discretion of the Taipei Times.