APEC ministers call for revived trade talks
PLATITUDES Asia-Pacific ministers paid lip service to global free trade talks and the battle against terrorist financing, but made no breakthroughs at a two-day meeting
Asia-Pacific finance ministers called for revived global free trade talks and pledged greater efforts against "terrorist financing" as they wrapped up a two-day meeting in Vietnam yesterday.
But the APEC meeting failed to agree on a pledge to stop money flows for weapons of mass destruction (WMD), a reference to North Korea's overseas bank accounts that the US had sought to include in the final statement.
The 21-member APEC forum, which accounts for nearly half of global trade and 60 percent of world economic output, groups the US, China, Russia and other large economies.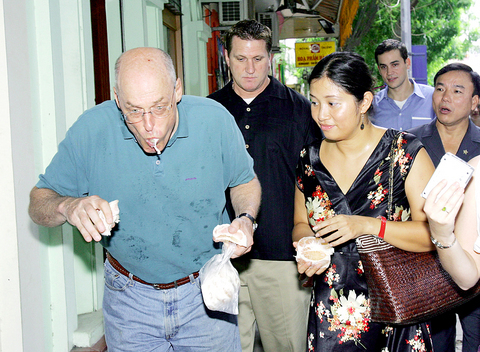 US Treasury Secretary Henry Paulson, left, enjoys a grapefruit as he tours the old quarter in downtown Hanoi yesterday. Paulson was attending the two-day APEC finance ministers meeting in the Vietnamese capital.
PHOTO: AFP
APEC, long a vocal proponent of free trade, made a fresh call for a resumption of the World Trade Organization's Doha Development Round talks to cut barriers to free trade that collapsed in July in Geneva.
Ministers "remained firmly committed to restarting the multilateral trade negotiations and achieving the breakthrough in market access and support to bring the negotiations to a successful conclusion," they said in a statement.
Australian Treasurer Peter Costello, whose country will host next year's APEC meetings, said: "It is so important that we reinvigorate the Doha Round of the World Trade Organization."
"This is important for the global future. It's important for our region ... We can't afford to fail here," Costello said.
The APEC grouping, which operates by consensus and makes only non-binding decisions, also vowed in a joint statement "to combat terrorist financing, money laundering and other abuses of our financial system."
But they left out a phrase that had been suggested in an earlier draft, in which they would have pledged their "commitment to not allow our financial systems to be used to finance the proliferation of WMD."
US Treasury Secretary Henry Paulson had stressed the point repeatedly during the meeting after Washington in recent months told several nations, including Vietnam, that North Korea had set up illicit bank accounts there.
Asked whether he was disappointed about the omission of the WMD reference, Paulson said: "We've made our points. I had an opportunity to make my point. I think there was pretty broad agreement."
Costello said all APEC members shared a concern about WMD and the potential use of their financial systems in efforts to procure the weapons or the mechanisms to build them.
"I don't think there is a shadow of a doubt: All APEC members would be against that and all APEC members and members of the responsible financial community would take steps to prevent it," he said.
"Whether or not it goes into the communique may be influenced by other considerations as to the aims and objectives at a particular time. I wouldn't read that as APEC going soft on weapons of mass destruction," he said.
The APEC ministers also discussed tax and financial sector reforms and other ways to boost growth and guard the dynamic region against a re-run of the 1997 Asian financial crisis.
"The potential volatility of international capital flows could carry risks to developing economies with less resilient financial markets and could undermine macro-economic stability," the grouping warned.
Vietnam will host the annual APEC leaders summit in November.
Comments will be moderated. Keep comments relevant to the article. Remarks containing abusive and obscene language, personal attacks of any kind or promotion will be removed and the user banned. Final decision will be at the discretion of the Taipei Times.