Tokyo stocks recover as calm returns
REBOUND Shares closed up by more than 2 percent yesterday, but the exchange faced criticism for halting trading early the day before because of heavy turnover
The Tokyo stock market staged a strong recovery yesterday as calm returned after chaos sparked by a scandal at a top Internet firm, but the credibility of Asia's top bourse has been left severely tarnished.
Tokyo shares rallied to close up over 2 percent as dealers recovered their nerve from Wednesday's rout which saw the market almost 5 percent in the red at one point -- a sell-off brokers said appeared to have been overdone.
The market shortened trading by half an hour but closed at the scheduled time, unlike on Wednesday when trade was halted 20 minutes early in an unprecedented measure to prevent a systems overload.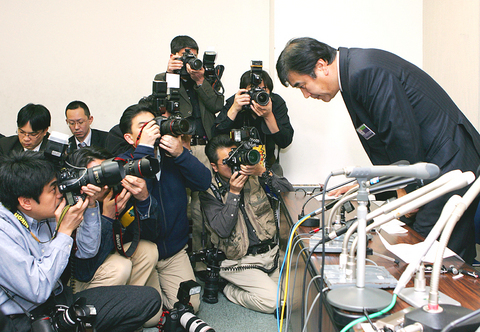 HS Securities Co president Hideo Sawada bows before opening a press conference in Tokyo yesterday. Sawada confirmed the death of Hideaki Noguchi, vice president of the brokerage, which is linked to Internet portal Livedoor Co. Livedoor is under investigation for alleged securities law violations.
PHOTO: AP
But serious questions remain about how the world's No. 2 stock exchange, in a country lauded worldwide for its technological prowess, found itself in the position of having to stop all trade for fear of system failure.
Kaoru Yosano, the economy minister who is also in charge of financial services, urged the Tokyo Stock Exchange (TSE) to do its utmost to prevent its computers being crippled again by heavy turnover.
"I want them to realize people would question why the market should be there if the market can't trade stocks," he said.
"The exchange needs to work hard to improve confidence and the capacity of the system," he added.
Livedoor Co, a star of Japan's Internet revolution and stalwart of the new economy at the center of the storm, said an internal probe had discovered no wrongdoing.
As the fallout from the scandal mushroomed, Japanese media reported that an executive of a securities company, raided as part of an investigation into Livedoor, had been found dead in an apparent suicide.
The vice president of HS Securities, 38-year-old Hideaki Noguchi, was described as a close associate of Livedoor founder Takafumi Horie, who is soon expected to be questioned by prosecutors over the fraud allegations.
Despite fears of another slump, the benchmark Nikkei-225 index rebounded 355.10 points or 2.31 percent to close at 15,696.28, reversing most of Wednesday's 2.94 percent drop.
Dealers "had a feeling that they went too far with selling," said Toshihiko Matsuno, broker at SMBC Friend Securities.
The Nikkei had managed to hold above the key 15,000 point level on Wednesday "convincing investors we have seen a bottom line for the immediate future."
He said the stock exchange should be held partly to blame for the plunge.
"It was a bad announcement that they said trading may be `suspended' during the day, which sparked crazy selling," he said.
Although the bourse has been upgrading its capacity in response to record trading volumes, it came under fire for failing to act quickly enough to keep pace with soaring investor interest in Japanese shares.
The exchange "has extremely heavy responsibility" for recent market turmoil, the Nihon Keizai Shimbun said.
"The standard bearer of capitalism was driven to reduce market activity with its own hands," the business bible said in a front-page article.
The Asahi Shimbun said the TSE was "pathetic."
"It is not an international exchange if it suspends trading due to the inability of taking orders," it said in an editorial.
Concern about the stock exchange's ability to cope with record turnover has grown since the bourse was forced to halt trading in all shares in November for the first time in its history of more than half a century.
On that occasion, however, it managed to get the system working again and trade resumed and closed at the regular time.
Comments will be moderated. Keep comments relevant to the article. Remarks containing abusive and obscene language, personal attacks of any kind or promotion will be removed and the user banned. Final decision will be at the discretion of the Taipei Times.