Soft dollar boosts Asian oil prices
NEARING HIGH Prices rose toward US$55 a barrel as a late cold snap in the US reignited demand and a weaker dollar lured more traders back to the market
Oil prices rose in Asian trade yesterday as the continued weakening of the US dollar prompted speculators to divert their attention from forex to the volatile crude market, dealers said.
At 3:45pm, New York's main contract, light sweet crude for delivery in April, was up US$0.19 to US$54.78 a barrel from its close of US$54.59 in New York on Tuesday.
Oil prices flirted with record highs above US$55 on Tuesday as a fresh bout of jitters hit the market following comments by US President George W. Bush on the Middle East that were deemed aggressive.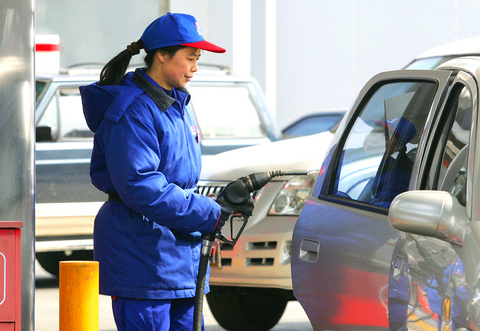 A Chinese gas station attendant gets ready to pump gasoline into a car in Beijing yesterday. Chinese oil demand will grow by 33 percent more than previously forecast this year, as the expected drop in demand for fuel to run power generators hasn't materialized, the statistics arm of the US Department of Energy said on Tuesday. The agency said Chinese oil demand will reach 800,000 barrels a day, down from last year's pace of 1 million barrels a day but up from the 600,000 barrels a day in growth the agency forecast last month.
PHOTO: AP
Bush warned Syria to pull its troops out of Lebanon before May parliamentary elections there and linked a recent suicide bombing in Israel to extremists who are based in Damascus.
Victor Shum, a Singapore-based oil analyst with energy consulting agency Purvin and Gertz, said the recent volatility continued to pique the interest of hedge fund speculators looking to buy into strong markets.
"Traders are taking their money out of the foreign exchange markets and putting it into the volatile oil market, which has the potential for spikes," Shum said.
The US dollar, generally under pressure from concerns over the massive US current account and budget deficits, weakened further against the yen in Asian trade yesterday after heavy losses against the major currencies overnight.
Shum also cited the lingering cold weather in the northern hemisphere and the US Department of Energy revising its global oil demand forecast upwards as additional factors for the price hike.
"We have strong demand and the market continues to believe that demand is not dented by these high prices," he said.
Dealers are continuing to pay little attention to the weekly snapshot of US inventories, which have been consistently indicating a rise in crude stocks that will meet demand in the second quarter, according to Shum.
"The market right now seems to be still rallying a bit, with traders largely ignoring the US inventories report and the [negative] news about rising crude stocks," he said.
The weekly US oil figures were due to be released during trading hours in the US later yesterday.
London-based economic research house Capital Economics said in an analysis received here yesterday that prices would drop over the coming weeks as global demand eased with warmer weather in the northern hemisphere.
"Another important factor is that speculative demand has again risen sharply over recent weeks," the analysis said.
"This will have boosted prices as these positions were built up and we expect it to weigh on prices as these positions are unwound over the coming months," Capital Economics said.
Comments will be moderated. Keep comments relevant to the article. Remarks containing abusive and obscene language, personal attacks of any kind or promotion will be removed and the user banned. Final decision will be at the discretion of the Taipei Times.