S Korean subway, car workers strike
SUMMER PROTESTS Metro service was unaffected by the labor action in four cities, while two Daewoo Auto & Technology Co plants were hit by the union action
Thousands of subway employees in major cities and unionized workers at South Korea's third-largest carmaker went off the job yesterday in the latest in a rash of summer strikes that has prompted government warnings of a crackdown.
Although subway service was unaffected because authorities mobilized non-union workers, the strikes come at a sensitive time because of signs that the domestic economy is struggling despite booming exports.
Unionized workers at GM Dae-woo Auto & Technology Co went on strike to press demands that include a 16.6 percent salary in-crease. And LG Caltex, South Korea's second-largest oil refiner, was preparing to restart its plant after it shut down on Monday because of an illegal strike by unionized workers.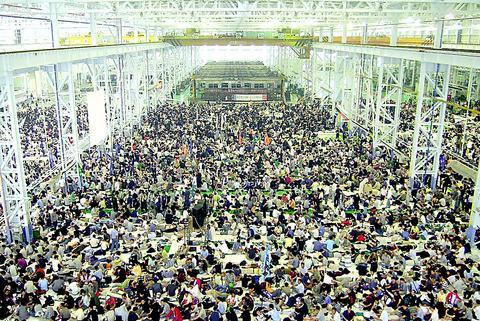 Striking subway workers gather at a subway main depot in Seoul yesterday. Subway workers went on strike in South Korea's four biggest cities yesterday.
PHOTO: AFP
State prosecutors said yesterday that they would seek warrants for the arrest of leaders of the subway and LG Caltex strikes, which are illegal.
The law bars any strike called during a 15-day mediation period with the government.
The government typically promotes a negotiated end to union actions -- even if they are illegal -- to avert further unrest, but has in the past used police to break up strikes.
"We have stressed time and time again that we will deal sternly with any illegal action that is not within the boundaries of the law," the government said in a statement on Tuesday.
The annual wave of labor actions -- considered a major obstacle to President Roh Moo-hyun's efforts to attract foreign investment -- are concentrated during the summer as most companies and unions begin wage negotiations in the spring.
Roh, a former lawyer who defended labor activists, has been accused of being too sympathetic to union demands.
Some 9,900 subway and railroad workers in Seoul, Incheon, Busan and Daegu went on strike yester-day, urging authorities to increase hiring with the launch of a five-day work week this month. Sections of the subway system are operated by the national railroad company.
"Although the five-day work week went into effect on July 1, the government has not made any effort to hire extra workers as is necessary,"' the subway workers' union said in a statement.
In addition to a wage increase, members of the Daewoo Automobile Labor Union are demanding reduced working hours, company officials said. The strike by 2,700 workers affected the company's Changwon and Gunsan plants, and unionists planned to continue the stoppage through today. The strike is not illegal.
At LG Caltex, striking workers are demanding a 10.5 percent wage hike. Strikers temporarily occupied plant control rooms, forcing operations to shut down.
Comments will be moderated. Keep comments relevant to the article. Remarks containing abusive and obscene language, personal attacks of any kind or promotion will be removed and the user banned. Final decision will be at the discretion of the Taipei Times.