Paper success of Pakistan's economy doesn't fill bellies
Sitting outside a government-administered zakat (charity) office, Parveen Naz waits her turn to cajole a desk worker for the paltry grant to feed her four children and ailing husband. \nNaz, 32, a telephone operator who suffers tuberculosis and looks a decade a older due to malnutrition, has been struggling to keep herself and her family alive since she and her spouse were laid off more than two years ago. \n"I would have committed suicide, because at times it becomes intolerable to see my children's famished faces," Naz said, despairing of getting much help from the corruption-riddled zakat office. "But it's their existence which prevents me from doing so." \nHer husband began sniffing heroin after protracted unemployment, and has left all family responsibility to Naz. \n"I have lost two sons because I couldn't get medical treatment for them. I do not want to lose the surviving children, but all I can see is darkness ahead," she said. \nNaz' family is not alone in its misery. \nSome 50 million Pakistanis or 33 percent of the population are living in poverty, according to the State Bank of Pakistan's annual report released last week. \nPoverty has risen 13 percent over the past 15 years, the report found, despite the economy's skyrocketing performance on paper in the past three years. \nExpecting any significant short-term drop in poverty was "simply a pipedream," according to a sober warning by the central bank. \nThe Pakistani economy has performed robustly since 2000 with most major economic indicators beating all-time records. \nForeign exchange reserves have soared from a mere US$1.97 billion in 2000 to above US$11 billion last September; exports grew 22 percent to US$11 billion for the year ended June and GDP grew by 5.1 percent, compared to 3.6 percent previous year. \nBut appears to be strong economic growth has had little impact on the lives of tens of millions of Pakistanis. \n"Despite the impressive improvement in macroeconomic fundamentals, the popular perception about the economy amongst media and commentators does not reflect the improvement," the central bank stated in its annual report last week. \nThe bank blamed poor economic policies of the previous regimes of now-exiled Prime Ministers Benazir Bhutto and Nawaz Sharif since 1987. \nBut independent economists pointed the finger at the current administration of President Pervez Musharraf. \n"The government has compiled data for the Pakistan household integrated survey but is reluctant to make it public because I am sure that reveals a further increase in poverty," Qaiser Bengali, chief of the Social Policy and Development Centre (SPDC) said. \nThe survey is one of the main mechanisms for evaluating the impact of social developments in Pakistan. \nHe said boosting public spending was the only answer. \n"The debate is not whether [poverty] is 33 percent or 36 percent but the focus must be on how to eradicate it meaningfully. Only a well-directed and high public development expending could arrest the trend." \nIslamabad awarded a record 30 percent boost to development spending in the annual budget in June to 160 billion rupees (US$2.8 billion) or 3.6 percent of GDP. \nEconomists shrug off the increase as inadequate. \n"Any level of public development expenditure below 7 percent of GDP could hardly make a dent in poverty levels or propel sustainable economic growth," economist Shahid Hasan Siddiqui said. \nThe only way to reverse poverty growth would be economic growth of 6.0 to 7.0 percent for the next five to six years, economists and the bank agree. \n"There is no magic wand to eliminate poverty, unless we catch up with sustainable growth rate of 6 percent," central bank governor Ishrat Husain said.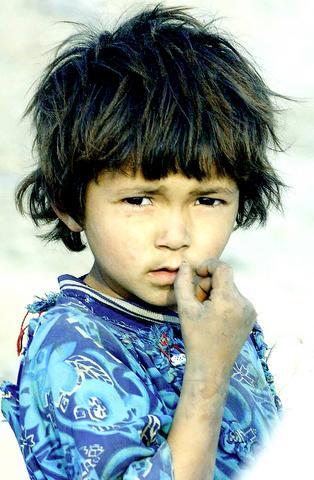 A street child, on her way to collect garbage to be sold to recycling factories, watches out for traffic before crossing a road in Rawalpindi, Pakistan yesterday. According to the recently-released State Bank of Pakistan's annual report, some 50 million Pakistanis, or 33 percent of the total population, are living in poverty.
PHOTO: AFP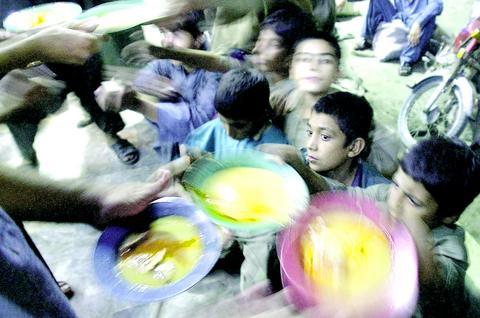 Pakistani street children receive food offered by a local businessman in a street in Karachi, Saturday.
PHOTO: AFP
Comments will be moderated. Keep comments relevant to the article. Remarks containing abusive and obscene language, personal attacks of any kind or promotion will be removed and the user banned. Final decision will be at the discretion of the Taipei Times.