Seoul orders more Japanese payments
WARTIME COMPENSATION: Japanese officials said the Supreme Court ruling that forced laborers be paid was 'extremely regrettable and absolutely unacceptable'
South Korea's top court yesterday ordered a Japanese company to compensate 10 men for forced labor during Tokyo's 1910 to 1945 colonial rule of the Korean Peninsula, in the second such ruling in a month that again drew quick, vehement protests from Japan.
The latest verdict on Mitsubishi Heavy Industries was widely expected after the South Korean Supreme Court late last month ruled that another Japanese company must compensate four men for similar colonial-era forced labor.
The Oct. 30 ruling, which followed more than five years of deliberation, was the first of its kind.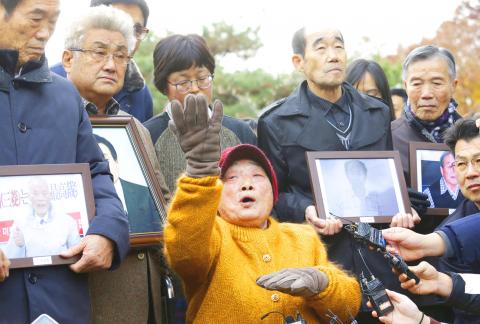 Kim Sung-joo, center, who was a forced laborer during Japanese occupation, speaks outside the South Korean Supreme Court in Seoul yesterday.
Photo: AP
Japan says all compensation issues were settled when Tokyo and Seoul signed a treaty in 1965 that restored diplomatic ties.
The rulings are expected to affect similar lawsuits pending in South Korean courts.
Japanese Minister of Foreign Affairs Taro Kono said that the latest ruling was "extremely regrettable and absolutely unacceptable."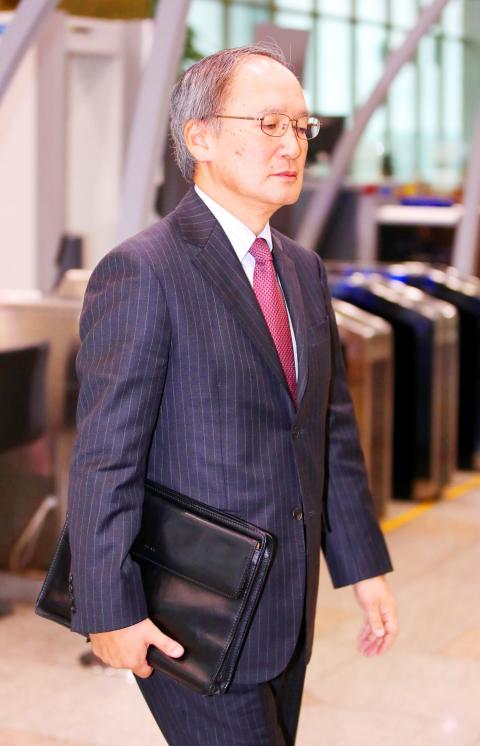 Japanese Ambassador to South Korea Yasumasa Nagamine arrives at the Ministry of Foreign Affairs in Seoul yesterday after the ministry called him in to urge Japan to refrain from "overreacting" to court rulings.
Photo: EPA-EFE
"The ruling not only imposes unfair damages to Japanese companies, but fundamentally overturns the legal foundation of friendly and cooperative relations that Japan and South Korea have built since the 1965 normalization," Kono said.
Japanese Chief Cabinet Secretary Yoshihide Suga said that South Korea should retract the decision immediately, adding that Japan could consider "all options," including taking the issue to the International Court of Justice.
Japanese Deputy Minister of Foreign Affairs Takeo Akiba summoned South Korean Ambassador Lee Su-hoon to protest the ruling.
Japan made similar protests when the South Korean court last month ruled that Japan's Nippon Steel & Sumitomo Metal Corp should provide compensation of 100 million won (US$87,680) to each of the four plaintiffs.
Seoul and Tokyo, both key US allies, are closely linked to each other economically and culturally, but their historical and territorial disputes stemming from Japan's colonial occupation have often complicated Washington's efforts to boost trilateral cooperation to deal with North Korea's nuclear threat and China's growing influence in the region.
In two separate verdicts involving 10 forced laborers or their bereaved family members, the Supreme Court yesterday said that Mitsubishi must provide 80 million won to 150 million won in compensation to each of the plaintiffs.
The court said that the 1965 treaty cannot prevent individual rights to seek compensations for forced labor because Japanese companies' use of such laborers were "acts of illegality against humanity" that were linked to Tokyo's "illegal" colonial rule and its war of aggression.
Outside the court, one of the plaintiffs, Kim Sung-joo, raised her hands with her family members and supporters in celebration of the ruling.
However, she also recounted what she described as a bitter memory of working at a Mitsubishi factory in Japan.
"One of my fingers was cut off [while working]. I spilled my blood and cried a lot. I cried because I didn't know why I had that kind of hardship in Japan," Kim told reporters.
After its liberation from Japan, the Korean Peninsula was divided into US-allied South Korea and Soviet-backed North Korea. Many in both Koreas still harbor strong resentment against Japanese rule, during which hundreds of thousands of Koreans were forced to work as laborers for Japanese companies or "comfort women" for Japanese soldiers in wartime brothels. When South Korea and Japan signed the 1965 treaty, South Korea received more than US$800 million in economic aid and loans from Japan, and used the money to rebuild its infrastructure and economy devastated by the Korean War.
Last week, South Korea announced a plan to dissolve a
Japan-funded foundation aimed at compensating former comfort women in South Korea.
The move, which would effectively end a 2015 deal to settle the impasse over the sexual slavery, was criticized by Japan.
Comments will be moderated. Keep comments relevant to the article. Remarks containing abusive and obscene language, personal attacks of any kind or promotion will be removed and the user banned. Final decision will be at the discretion of the Taipei Times.