Belgian directors fool writer into unearthing 'Picasso'
A writer who thought she had found a painting by Pablo Picasso stolen in an infamous art heist six years ago on Sunday said that she was the victim of a "publicity stunt," Dutch media reported.
Picasso's Harlequin Head was one of seven celebrated paintings snatched from the Kunsthal museum in Rotterdam in 2012 during a daring robbery that local media dubbed "the theft of the century."
The pieces by Picasso, Monet, Gauguin, Matisse and Lucian Freud have not been seen since.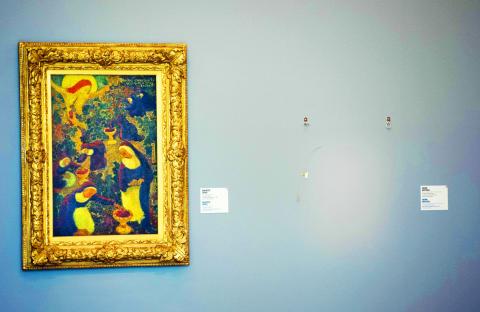 An empty space remains where a painting by Henri Matisse was stolen at the Kunsthal museum in Rotterdam on Oct. 16, 2012.
Photo: AFP
However, Dutch writer Mira Feticu, who wrote a novel based on the brazen heist, thought she had uncovered the piece after she was sent an anonymous letter about 10 days ago "with instructions regarding the place where the painting was hidden" in Romania.
Feticu, of Romanian origin, told reporters that the tip-off led her to a forest in the east of Romania where she dug up a piece of art wrapped in plastic.
Romanian authorities, who were handed the canvas on Saturday night, said that it "might be" Picasso's painting, which is valued at 800,000 euros (US$912,617).
However, on Sunday night, Feticu told Dutch public broadcaster NOS that she was the victim of a "performance" by two Belgian directors in Antwerp.
Feticu said she received an e-mail from the Belgian duo explaining that the letter was part of a project called "True Copy," dedicated to notorious Dutch forger Geert Jan Jansen, whose fakes flooded the art collections of Europe and beyond until he was caught in 1994.
"Part of this performance was prepared in silence in the course of the past few months, with a view to bringing back Picasso's Tete d'Arlequin," Bart Baele and Yves Degryse wrote on their Web site.
Their production company "currently wishes to abstain from any comment" because it first wants to speak to Feticu, the statement read. "We will be back with more details on this issue within the next few days."
Four Romanians were in 2014 jailed for the heist and ordered to pay 18 million euros to the work's insurers.
One of the group, Olga Dogaru, told investigators she had burned the paintings in her stove in the sleepy village of Carcaliu to protect her son, Radu, when he could not sell them. She later retracted the statement.
Investigators have previously said that the paintings were destroyed after the thieves failed to find a buyer.
Specialists from the National Museum of Natural History in Bucharest examined ashes from a stove in Dogaru's home and found traces of at least three oil paintings, based on lead and zinc-based pigments in blue, yellow, red and green that are no longer used, director Ernest Oberlaender-Tarnoveanu said.
The thieves slipped into the Dutch museum during the night of Oct. 15-16, 2012, and got away with the works, which, despite their value, were not protected by alarms.
Comments will be moderated. Keep comments relevant to the article. Remarks containing abusive and obscene language, personal attacks of any kind or promotion will be removed and the user banned. Final decision will be at the discretion of the Taipei Times.