Sri Lankan head sets up election
'TOTALLY UNCONSTITUTIONAL': The fired prime minister's party says constitutional provisions stipulate that a parliament cannot be dissolved until 4.5 years after its inception
Sri Lankan President Maithripala Sirisena on Friday dissolved Parliament and called for fresh elections amid a deepening political crisis.
The government printer published a notification signed by Sirisena announcing the dissolution of Parliament effective at midnight on Friday.
The notice says that the names of candidates for new elections would be called before Nov. 26, and that the election would be held on Jan. 5. The new Parliament is to be convened on Jan. 17.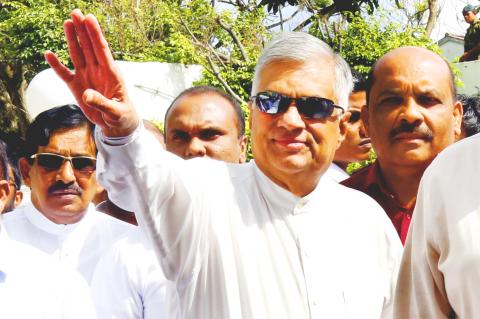 United National Party leader Ranil Wickremesinghe, center, greets supporters during a protest march toward Torrington Square in Colombo, Sri Lanka, on Thursday.
Photo: EPA-EFE
Sri Lanka has been in a political crisis since Oct. 26, when Sirisena fired his prime minister, Ranil Wickremesinghe, and replaced him with former strongman Mahinda Rajapaksa.
Wickremesinghe has said his firing was unconstitutional and refused to vacate his official residence, demanding that Parliament be immediately summoned to prove that he has support among its members.
Sirisena had suspended Parliament for two weeks in a move that Wickremesinghe's backers have said was designed to buy time to shore up support.
There were calls locally and internationally to convene Parliament to end the impasse.
Amid the pressure, Sirisena announced that Parliament would be summoned on Nov.14. He maintained that his choice for prime minister, Mahinda Rajapaksa, had a majority in Parliament.
However, the decision to dissolve Parliament is a sign that this is not so, observers say.
"The dissolution clearly indicates that Mr Sirisena has grossly misjudged and miscalculated the support that he might or could secure to demonstrate support in the Parliament," said Bharath Gopalaswamy, director at the South Asia Center of the Atlantic Council, a New Delhi-based analyst group.
"At the end of the day, he is a victim of his own homegrown crisis," Gopalaswamy said.
Wickremesinghe's camp is likely to contest Sirisena's move because of constitutional provisions stating that a parliament cannot be dissolved until four-and-a-half years after its inception. The current Parliament was elected in August 2015.
"It's totally unconstitutional," said Harsha de Silva, a member of Wickremesinghe's United National Party and a former minister.
"Sirisena has relegated the constitution to toilet paper. We will fight this dictator to the end," De Silva added.
The party said on Twitter that it would meet with the elections commissioner to discuss the constitutionality of Sirisena's move.
Earlier, US Representative Eliot Engel, the top-ranking Democrat on the US House Committee on Foreign Affairs, and two other lawmakers wrote to Sirisena expressing grave concern over the country's political developments.
They said actions circumventing the democratic process could affect US assistance — including a planned five-year aid package worth hundreds of millions of dollars.
"We fear that recent actions, if not corrected, will threaten your country's democratic development and derail the progress made in recent years," the three lawmakers said in a letter.
Hours before the dissolution, Rajapaksa indicated in a speech what was coming, saying that the government must go to the people for confirmation on whether Sirisena made the correct decision when he appointed him as prime minister.
Comments will be moderated. Keep comments relevant to the article. Remarks containing abusive and obscene language, personal attacks of any kind or promotion will be removed and the user banned. Final decision will be at the discretion of the Taipei Times.