Bottles of Scotch vie for record sale price at auctions
Less than 24 hours after a 60-year-old Macallan Scotch whisky sold for £848,800 (US$1.1 million) on Oct. 4 at Bonhams in Edinburgh, auction-house rival Christie's unveiled a single malt from the same vintage that could crack the £1 million mark next month.
Meanwhile, Sotheby's is putting its own bottle from that cask, filled in 1926, on the block in New York on Oct. 12 with a high estimate of US$1.2 million.
The 194-year-old Macallan distillery, on the banks of the River Spey in Scotland, calls this vintage the "holy grail" of whiskies, bottled in 1986 after six decades in an oak cask. Only about 40 bottles were made and none have appeared at auction in more than a decade.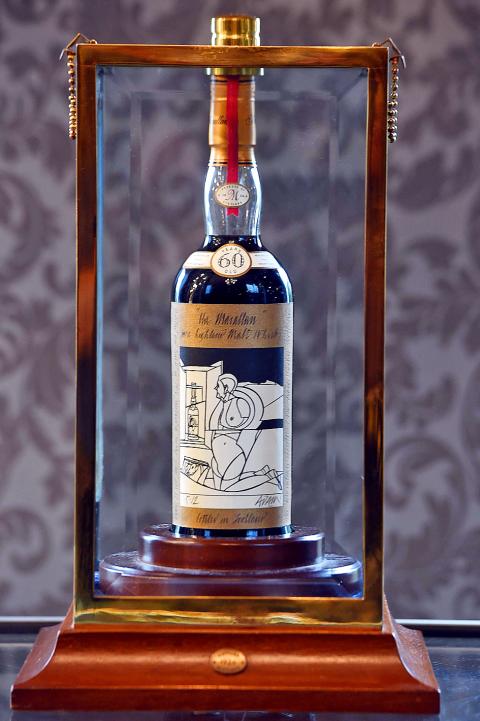 A 60-year-old Macallan Scotch whisky is displayed in Edinburgh on Wednesday.
Photo: AFP
However, when two sold for more than US$1 million each at Bonhams, the market woke up.
"Before that first bottle was auctioned, nobody really knew how much it was worth," said Aaron Chan, a Hong Kong-based collector who runs Club Qing whisky bar. "Suddenly people thought: 'Oh my God, it's worth so much,' and owners realized it's a good time to sell."
The Bonhams sale in Edinburgh set a world record in pounds, but in US dollar terms, the most expensive was in Hong Kong in May, when a bottle of the 1926 Macallan with a label designed by Italian painter Valerio Adami sold for HK$8,636,250 (US$1,101,300). That worked out to about US$40,000 per shot.
Prices for whiskies have soared in recent years as investors and lovers of the beverage seek out rare single malts from Scotland, such as Dalmore and Port Ellen, as well as bottles from Japanese distilleries Karuizawa and Yamazaki.
As an alternative investment, the amber-colored spirit has appreciated 140 percent in the past five years, according to the Vintage 50 Index compiled by Rare Whisky 101, far outpacing the 19 percent advance of the Liv-ex 100 Benchmark Fine Wine Index.
Whisky has the advantage of a long shelf life, while top Bordeaux and Burgundies are generally best consumed with a few decades of bottling.
A wine's vintage is determined by the year in which the grapes were picked and bottling usually takes place within 16 to 24 months of the harvest. For whisky, the age refers to the time spent in the cask. So the Macallan 1926 bottled in 1986 is 60 years old. That is a long time spent aging and because of loss due to evaporation, known as the "angel's share," only a small fraction of whisky was left in the cask to bottle.
Comments will be moderated. Keep comments relevant to the article. Remarks containing abusive and obscene language, personal attacks of any kind or promotion will be removed and the user banned. Final decision will be at the discretion of the Taipei Times.