Communist party leader to become Vietnam's president
Communist Party of Vietnam General Secretary Nguyen Phu Trong, nominated by the nation's political apparatus to replace its deceased president, is poised to become the most influential leader there since founder Ho Chi Minh.
The party's central committee on Wednesday nominated Trong, 74, to become president following the Sept. 21 death of Tran Dai Quang from illness, a government statement said.
Trong outmaneuvered former Vietnamese prime minister Nguyen Tan Dung to win a second five-year term as the party's head during its 2016 congress.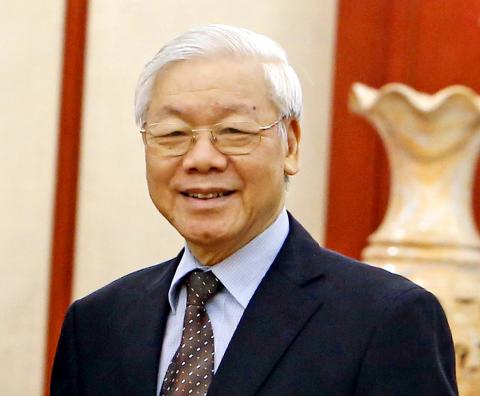 Communist Party of Vietnam General Secretary Nguyen Phu Trong is pictured on Jan. 25 in Hanoi, Vietnam.
Photo: AP
If his nomination is approved, he would directly oversee the nation's police and military forces, mirroring the role held by Chinese President Xi Jinping (習近平).
As the only nominee for president, Trong is expected to be voted in by the National Assembly when it meets later this month.
The nomination breaks with tradition, in which political power rests with four individual leaders — party chief, prime minister, president and head of the National Assembly.
"We are seeing a tipping point in the trajectory of the power struggle in the government," said Alexander Vuving, a professor at the Daniel K. Inouye Asia-Pacific Center for Security Studies in Hawaii.
If made president, Trong "will be able to mobilize not just the party, but also the state apparatus," he said.
The government's shifting power centers are not expected to change Vietnam's push for global economic integration and efforts to strengthen relations with the US, Vuving said.
Trong has welcomed a robust US presence in Southeast Asia amid Vietnam's territorial tensions with China.
Trong has also spearheaded anti-corruption campaigns targeting officials and is likely to accelerate those efforts after consolidating power, Vuving said, adding that he might also intensify prosecution of his critics in the government.
It was not known if the merging of the party chief and president roles is temporary and will stand only until the next party congress in 2021.
The party's operations in Vietnam are "very opaque," Vuving said.
"They want to conceal all the power struggles, jockeying and bargaining behind the scenes," he said.
Comments will be moderated. Keep comments relevant to the article. Remarks containing abusive and obscene language, personal attacks of any kind or promotion will be removed and the user banned. Final decision will be at the discretion of the Taipei Times.