Haddad replaces jailed Lula on party ticket
The Workers' Party on Tuesday replaced jailed former Brazilian president Luiz Inacio Lula da Silva as its candidate for the general election next month, clarifying one of the biggest question marks hanging over the vote to lead Latin America's largest nation.
The party confirmed the move after a meeting of its executive committee in the southern city of Curitiba, where Lula is jailed.
Fernando Haddad, a former Sao Paulo mayor, is to lead the ticket and be joined by Manuela D'Avila, a member of Brazil's Communist Party.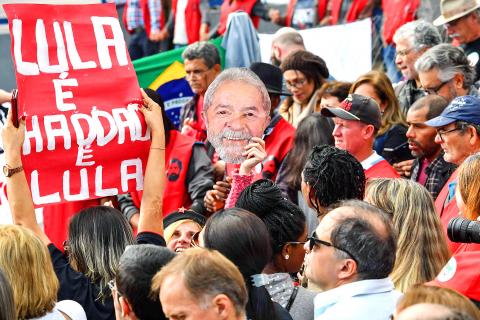 A supporter of former Brazilian president Luiz Inacio Lula Da Silva holds a mask depicting him at a gathering outside the federal police building in Curitiba on Tuesday.
Photo: AFP
The move, while long expected, was an acknowledgement that the party could not get Lula on the ballot despite numerous attempts in the courts.
"The struggle has just begun. Let's go, Haddad! Haddad is Lula!" the Workers' Party Twitter account said. "He was a Lula minister, he is a Lula attorney and best of all: He is a friend of Lula's."
The political science professor turned education minister and later politician met with Lula on Tuesday after the decision, then delivered his first speech as the candidate in front of hundreds of supporters in front of the federal police building where Lula is jailed.
"I feel the pain of many Brazilians who won't be able to vote for who they want," Haddad said, standing next to D'Avila and other Workers' Party heavyweights. "But now is not the time to have your head down."
Lula is serving a 12-year sentence for trading favors with construction company Grupo OAS for the promise of a beachfront apartment.
The former president, who governed from 2003 to 2010, has always denied wrongdoing, saying this case and several others pending against him are meant to keep him off the ballot.
Lula led polls for more than a year, but his candidacy was recently barred by the nation's top electoral court. The court gave the party until Tuesday to replace him.
In a lengthy letter distributed by the Workers' Party, Lula recounted what he called "lies and persecution" that he and his family had suffered and urged supporters to vote for Haddad.
"Today and going forward, Fernando Haddad will be Lula for millions of Brazilians," he wrote.
The strategy of holding on to Lula's candidacy until the absolute last minute caused much internal fighting within the party. Many believed that leaving Haddad so little time to present his case to voters was risky, while others thought it was best to keep Lula front and center as long as possible.
"Haddad and I are like Lionel Messi and Luis Suarez," Lula once said, referring to super star teammates on FC Barcelona's soccer club. "We play together and we don't even need to look at each other to know what the other is doing."
Rival candidates have frequently taken shots at Haddad, attacking the centerpiece of the party's strategy: his dependence on Lula.
Brazil will have "a little president" if Haddad is elected, left-leaning candidate Ciro Gomes said last month.
"The theater of the Workers' Party is over," right-leaning Geraldo Alckmin said on Tuesday.
Recent polls show Haddad far behind, but the party hopes he will now rise with Lula's endorsement.
The current poll leader is far-right congressman Jair Bolsonaro, consistently holding more than 20 percent in a race that puts several candidates at about 10 percent.
Comments will be moderated. Keep comments relevant to the article. Remarks containing abusive and obscene language, personal attacks of any kind or promotion will be removed and the user banned. Final decision will be at the discretion of the Taipei Times.