Saudi-led coalition says 'mistakes' made in airstrike
The Saudi-led coalition fighting rebels in Yemen on Saturday said that "mistakes" had been made in an airstrike last month that killed 40 children.
The bombing on a crowded market in part of northern Yemen held by Houthi rebels killed 51 people, according to the Red Cross.
Fifty-six children were also among the 79 people wounded in the Aug. 9 strike on Saada Province, a stronghold of the Iran-backed Houthis bordering Saudi Arabia.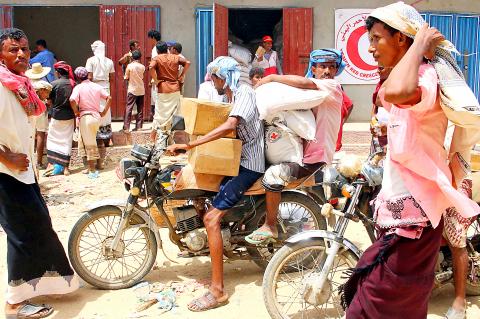 Displaced Yemenis from Hiran, near the border with Saudi Arabia, on Saturday receive food aid from the Yemen Red Crescent in the northern district of Abs in Yemen's Hajjah Governatorate.
Photo: AFP
The incident prompted the UN Security Council to call for a "credible and transparent" investigation.
Coalition spokesman Mansour al-Mansour said a coalition probe had found that errors were made prior to the strike and called for those responsible to be "punished."
He told a news conference in Riyadh that "an order had been given not to target the bus, which was among civilians, but the order arrived late."
Another error was that "the target did not pose an immediate threat and that targeting the bus in a residential area was unjustified at that time," he said.
The coalition had claimed to have targeted a bus carrying rebels.
Al-Mansour on Saturday said that the bus had been "transporting Houthi leaders" according to information from intelligence services.
However, he said the strike had "caused collateral damage."
The coalition accuses Houthis of hiding among civilians or using them as human shields.
The Saudi-led coalition intervened in Yemen in March 2015 after the Houthis ousted Yemeni President Abd Rabbu Mansour Hadi's government from the capital Sana'a and seized swathes of the country.
The devastating conflict has since left nearly 10,000 people dead and sparked what the UN has described as the world's worst humanitarian crisis.
The world body is to host Yemeni government and Houthi delegations in Geneva, Switzerland, next week for talks aimed at charting a path toward reviving UN-backed negotiations that broke down in 2016.
Both sides have expressed pessimism ahead of the meetings, but Yemeni Minister of Foreign Affairs Khalid al-Yamani on Saturday said the Yemeni government would use them as an opportunity to push forward trust-building measures.
Most importantly, al-Yamani told the Saba state news agency that the government wants progress on "the release of detainees and abductees, ending sieges of cities, facilitating the delivery of humanitarian relief and paying civil service salaries" in rebel-held areas.
Comments will be moderated. Keep comments relevant to the article. Remarks containing abusive and obscene language, personal attacks of any kind or promotion will be removed and the user banned. Final decision will be at the discretion of the Taipei Times.