Indonesian cleric sentenced to death
MASTERMIND: Considered 'de facto' head of the Islamic State in Indonesia, Aman Abdurrahman is also spiritual leader of extremist network Jamaah Ansharut Daulah
Indonesian cleric Aman Abdurrahman yesterday was sentenced to death for masterminding a 2016 Islamic State terror attack that saw a suicide bomber blow himself up at a Starbucks cafe.
Heavily armed police guarded the hearing at a Jakarta court, which had earlier found Abdurrahman guilty of ordering the attack that killed four in the capital.
It was the first attack claimed by the international terror network in Southeast Asia.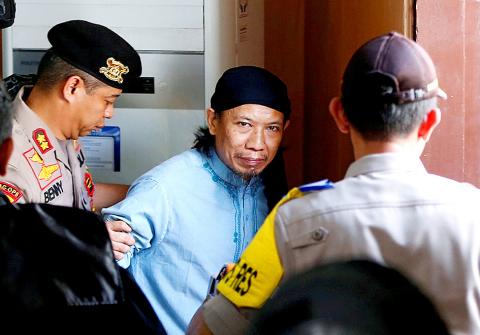 Islamic cleric Aman Abdurrahman leaves a court in Jakarta, Indonesia, yesterday after receiving the death sentence.
Photo: Reuters
"[The defendant] has been proven to have committed a criminal act of terrorism," said Judge Akhmad Jaini, who also cited Abdurrahman's involvement in other plots in the ruling. "He will be sentenced to death."
Abdurrahman, who sat on a defendant's chair in the middle of the courtroom, appeared bored and showed little reaction as machine-gun-toting guards stood nearby.
He gestured to his legal team and briefly kissed the floor after the decision, but said nothing audible.
His lawyer, Asludin Hatjani, described the ruling as "unfair," citing a lack of evidence connecting Abdurrahman to the deadly attack.
Executions are carried out by firing squad in the world's biggest Muslim-majority nation, which has long struggled with Islamist militancy.
In 2002, bombings at the resort island of Bali killed 202 people — including Taiwanese Eve Kuo (郭惠敏), 24, and four members of a Taipei-based rugby club — in Indonesia's worst-ever terror attack.
The assault in the capital two years ago saw security forces battle gun-toting militants near the cafe where a suicide bomber detonated his explosives.
Prosecutors demanded that Abdurrahman be handed a death sentence for his role in that attack last month.
Considered the de facto head of the Islamic State group in Indonesia, Abdurrahman — believed to be 46 — is also the spiritual leader of local extremist network Jamaah Ansharut Daulah (JAD).
Authorities have said JAD was involved in the 2016 Jakarta attack and a wave of suicide bombings last month in Indonesia's second-biggest city, Surabaya.
Two families — including girls aged nine and 12 — blew themselves up at churches and a police station last month, killing 13.
Authorities have not charged Abdurrahman — who was already in jail on a separate terror conviction — over the Surabaya attacks.
Despite being imprisoned since 2010, he has recruited militants to join the Islamic State group, is thought to have been in communication with its leaders and is the main translator for its propaganda in Indonesia, analysts and authorities said.
Although considered Indonesia's largest pro-Islamic State coalition, JAD's structure and links to the network are murky.
The Institute for Policy Analysis of Conflict has said JAD is "a generic term" used for any Islamic State supporter and functions more as an umbrella organization than a coherent group.
Formed in 2015, JAD is thought to be composed of about two dozen Indonesian groups that have pledged allegiance to Islamic State leader Abu Bakr al-Baghdadi, according to the US Department of State, which last year designated it as an extremist network.
Apart from the 2016 Jakarta attacks, JAD carried out suicide attacks the following year which killed three police officers and injured a dozen others at a busy bus station in Jakarta.
It has also been linked to a series of other plots including a firebomb attack on a church that killed a toddler and a plan to launch a Christmas suicide bombing campaign.
That was foiled when the militants planning the attack were killed.
Comments will be moderated. Keep comments relevant to the article. Remarks containing abusive and obscene language, personal attacks of any kind or promotion will be removed and the user banned. Final decision will be at the discretion of the Taipei Times.