Hollywood movie academy expels actor Bill Cosby and director Roman Polanski
The Academy of Motion Picture Arts and Sciences on Thursday said that it has expelled actor Bill Cosby and movie director Roman Polanski from its membership in light of the sexual assault cases against both men.
The academy's board of governors met on Tuesday night and voted to strip both men of membership "in accordance with the organization's standards of conduct," said a statement from the body which hands out the Oscars.
"The board continues to encourage ethical standards that require members to uphold the academy's values of respect for human dignity," it added.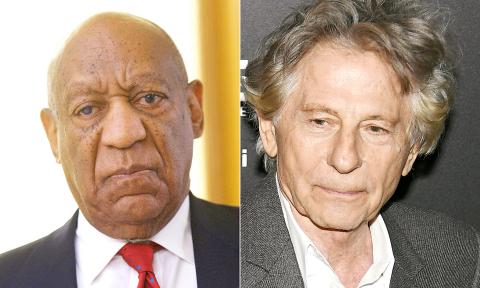 A combination of pictures shows Bill Cosby, left, in Norristown, Pennsylvania, on April 26 and French-Polish director Roman Polanski in Paris on Oct. 30 last year.
Photo: AFP
Cosby, once the darling of US television, has been accused of sexual assault by dozens of women.
A 12-member Pennsylvania jury found the 80-year-old comedian guilty on three counts of sexual assault on April 26 for drugging and molesting Andrea Constand at his Philadelphia mansion in January 2004.
He faces up to 30 years in prison at his sentencing later this year.
Polanski, who lives in France, for his part is wanted in the US for the statutory rape of a 13-year-old girl in 1977.
The veteran 84-year-old director of Rosemary's Baby for years has been seeking to negotiate a deal in the case with US authorities.
Polanski's victim, Samantha Geimer, who has sought to end the 41-year-old case against the fugitive director, on Thursday dismissed the academy's decision to expel him as "an ugly and cruel action which serves only appearance."
"It does nothing to change the sexist culture in Hollywood today and simply proves that they will eat their own to survive," Geimer said in a statement. "I say to Roman, good riddance to bad rubbish, the academy has no true honor, it's all just PR."
The academy in October last year also voted to expel disgraced movie mogul Harvey Weinstein in response to allegations of sexual assault and harassment.
The body's 54-member board of governors includes some of the biggest names in the industry, among them Steven Spielberg, Tom Hanks and Whoopi Goldberg.
The academy in December last year adopted a code of conduct for its 6,000-plus members after dozens of women came forward to accuse Weinstein of sexual assault.
Its own president was investigated earlier this year and cleared of any wrongdoing after a sexual harassment complaint was filed against him.
Apart from Weinstein, Cosby and Polanski, only one other academy member has been expelled from the group in its 91-year history.
Godfather actor Carmine Caridi was thrown out in 2004 after he shared screeners that were later pirated.
Comments will be moderated. Keep comments relevant to the article. Remarks containing abusive and obscene language, personal attacks of any kind or promotion will be removed and the user banned. Final decision will be at the discretion of the Taipei Times.