World Cup sticker fever not affecting many Venezuelans
In Venezuela, even the simple, universal pleasure of collecting cherished Panini Soccer Trading Cards in a World Cup year is soured by a worsening economic crisis.
For Alejandro Souki, who lives and breathes soccer, the choice is stark: "I prefer to eat than to fill the album."
For the first time in 24 years his efforts to complete a collection in a World Cup year will fail.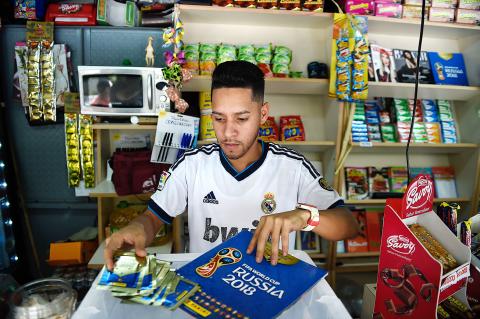 A shopkeeper in Caracas, Venezuela, on Monday shows the collectible trading cards and album for this year's Russia FIFA World Cup.
Photo: AFP
Across the street from a kiosk selling the Russia 2018 album in a middle class district of Caracas, Souki recalls the excitement that prevailed here four years ago, as the 2014 World Cup in Brazil was getting underway.
"It was filled with people exchanging cards. It was a party, man. Everyone was happy — children, grandparents. Now? Nothing," the 32-year-old shopowner said.
He remembers that the police had to intervene because some young people blocked the streets in their eagerness to trade an elusive sticker, or earn some Venezuelan bolivars by selling a rare one.
Souki has been collecting the Panini soccer cards, featuring players from all the competing teams, since the US hosted the World Cup in 1994.
"This is the first one that I will not be able to fill it," he said.
The costs make it an unattainable goal for most people in Venezuela today, where even basic food and medicines are scarce.
The celebrated sticker publisher has come under fire worldwide over a hike in prices for the glossy cards, but in Venezuela, the complaint goes beyond a gripe over a few US dollars — the collection is simply unattainable for ordinary people.
To collect the 670 images for Russia 2018, one needs two boxes, according to collectors — a sum equivalent to US$200 on the black market, in a country with strict exchange controls. An album goes for 800,000 bolivars and a box of stickers, containing 104 packets of five cards each — 24 million bolivars.
Take a soccer fan earning the minimum wage, 1.3 million bolivars. He would need 37 months of salary.
A sign of the country's rapid decline is that he would only have needed 1.7 months of salary in 2014. Once the richest country in Latin America, oil-rich Venezuela is suffering hyperinflation and sliding inexorably toward default, hit by a double-whammy of falling oil prices and disastrous mismanagement, analysts say.
Jose Rodriguez, a restaurant employee, makes the equivalent of US$20 a month.
"I would need nine months' salary to fill the album. It's impossible," the 22-year-old said.
His collection will stop at Brazil 2014, and he will not be able to sell full albums, as he used to do in order to have a little extra income.
And as is the case with almost all prices in Venezuela, the price of the stickers will be readjusted weekly to keep up with the frantic pace of inflation, sellers said.
"Inflation is eating us," Souoki said.
In neighboring Colombia, filling the album costs about US$155, albeit compared to a healthier base income there of US$310.
Although Venezuela never played in a World Cup finals and the national sport is baseball, the Fevent is welcomed with as much fervor as anywhere else in South America.
Venezuela led the regional sales of the Panini album in 2006 and 2010, but in 2014 sales dropped by 50 percent, said Julio Lopez of the company that distributes it.
At that time they gave away about 6 million albums to fill.
Today we gave away just 300,000, said Lopez, who acknowledges that it would be difficult to come anywhere near 2014 sales figures.
Given the economic devastation and the political tensions that go with it, there is little to none of the advertising exposure here that normally heralds the globe's biggest sporting event — in which Colombia, Peru, Panama, Brazil and Argentina and Uruguay will carry the banner for Latin America.
Even so, Jose Freitas, who began selling the album at his kiosk last month, believes sales will grow as soon as the World Cup kicks off in June.
"Four years ago, I had already sold five or six packages of cards by now," said Freitas, 49, who will also fill out an album for his two children.
"Many people avoid bringing their children to the kiosk altogether to avoid them getting frustrated and disappointed," said Carlos Escalona, who runs another kiosk.
As for Souki, he is looking forward to seeing the games on TV, where they are free-to-air in Venezuela, although he has resigned himself to waiting for the Qatar 2022 World Cup before he tries to fill another Panini album.
"Or I'll be filling it in another country, somewhere with a [good] quality of life," he said.
Comments will be moderated. Keep comments relevant to the article. Remarks containing abusive and obscene language, personal attacks of any kind or promotion will be removed and the user banned. Final decision will be at the discretion of the Taipei Times.