Syrian survivors of sarin attack grieve one year on
On his wedding anniversary tomorrow, 29-year-old Syrian Abdulhamid Yusuf would have nothing to mark, but a chemical attack that killed his wife and two baby children.
At least 80 people were killed on April 4 last year, on Yusuf and his wife's anniversary, when warplanes dropped sarin gas on his hometown of Khan Sheikhun in northwest Syria.
The chemical assault on the rebel-held town was one of the most shocking of Syria's seven-year war, causing global outrage and rare retaliatory airstrikes by the US.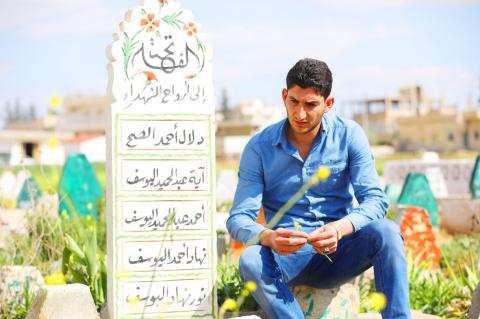 Abdulhamid Yusuf, who lost 19 members of his family, including his wife and two children, in a sarin gas attack last year, visits the graves of his relatives in Khan Shaykhun, Syria, on Friday.
Photo: AFP
"I've been deprived of part of my body, of my soul," the young widower said, breaking into tears as he sat in the garden of his now empty home.
An image of Yusuf holding the lifeless bodies of his 11-month-old twins — Aya and Ahmad — spread around the world in the wake of the attack.
Yusuf also lost his wife, Dalal, and 16 other relatives, including his brother, nephew and many cousins.
As Yusuf visited the cemetery to weed the graves of his loved ones 12 months on, his grief and anger was still raw.
"I won't be able to start over. I won't forget the past," he said.
Khan Sheikhun lies in Syria's Idlib Province, the last in the country to remain largely beyond the control of Syrian President Bashar al-Assad's regime.
UN war crimes investigators said they have evidence Syrian government forces were responsible for the deadly attack on Khan Sheikhun, but the allegations have been rejected by Damascus and its ally Russia.
"We want the international community to take a strong stand... Al-Assad needs to pay," Yusuf said.
The early morning raid killed 30 children, the Syrian Observatory for Human Rights said.
Witnesses said they saw people drop to the ground, convulsing violently, some with white foam pouring out of their mouths.
Ahmad al-Yusuf, 20, lost both his parents and two young brothers — Mohammed and Anwar — on a day he said he will never forget.
His mother had woken him up to perform morning prayers before he headed out to work on his grandfather's land.
After the strikes hit, he rushed back home to find his neighbor sitting on the ground, shaking uncontrollably and incapable of talking — but staring straight at him.
"I'll never forget that day or those details," said the young man, who now runs the family's convenience store on his own. "I lost all my family — everything that was dearest to me."
He clings on to their memory even as he adapts to his new life alone.
"Whether I'm coming or going at home, I always see them in front of me," he said.
The deadly strikes on Khan Sheikhun sparked international condemnation and caused the US to fire 59 Tomahawk cruise missiles at a Syrian airfield allegedly used in the attack.
However, the bereaved residents feel nothing more substantial has been done to hold those responsible to account.
Mohamed al-Jawhara, 24, lost his parents, nephew and several cousins.
"It was such a shock. How do you bear seeing them all die in a single day?" he said.
The Khan Sheikhun attack was a low point in Syria's civil war, which started in 2011 with the brutal repression of anti-government protests.
Multiple rounds of UN-backed talks have failed to stem the fighting, and Russia-backed regime forces have instead made significant military gains across the country.
Jawhara expressed frustration at what he saw as the insufficient response of the international community in holding al-Assad to account.
"We hoped he would be tried and have to pay" for what he did, said the student, who aims to be a teacher one day.
World leaders "have made statement after statement, but in the end they have been weak," he said.
Comments will be moderated. Keep comments relevant to the article. Remarks containing abusive and obscene language, personal attacks of any kind or promotion will be removed and the user banned. Final decision will be at the discretion of the Taipei Times.