Bannon hails France's National Front at party meet
Former White House strategist Steve Bannon on Saturday re-energized France's struggling far-right National Front party by speaking at a party congress and telling Marine Le Pen's nationalist supporters: "History is on our side."
Bannon's appearance in France was part of a European tour as he seeks an international platform for his closed-borders, anti-foreigner message that helped Donald Trump win the US presidency.
The former Breitbart News chairman was an early admirer of the National Front, whose long-standing "French First" motto rallied French voters for years before Trump's "America First" campaign.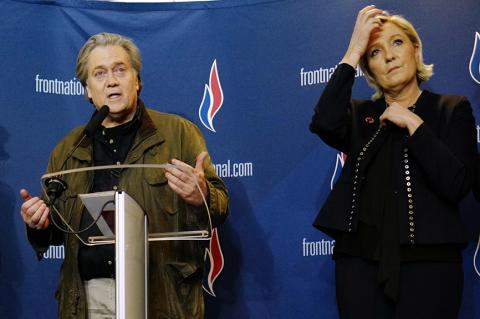 Stephen Bannon, left, and French member of parliament and National Front president Marine Le Pen give a news conference on Saturday during the party's congress at the Grand Palais in Lille, France.
Photo: EPA-EFE
"Let them call you racist. Let them call you xenophobes. Let them call you nativists. Wear it as a badge of honor," he told the crowd at the party congress.
The National Front has never won the French presidency, and the congress in Lille is aimed at remaking its image after Le Pen's crushing defeat to independent, pro-globalization Emmanuel Macron in last year's presidential election.
However, Bannon might have threatened Le Pen's makeover with his compliments for an extreme version of the National Front and lavish praise for Le Pen's more hardline niece and rival.
"You're part of a worldwide movement bigger than France, bigger than Italy," Bannon told National Front supporters, denouncing central banks, central governments and "crony capitalists."
His European tour centered on last weekend's Italian election, which Bannon called "an earthquake" after populist and anti-immigration parties outperformed traditional parties.
The outcome has boosted far-right movements across Europe and was seen as a victory for the forces that elected Trump and voter approval for Britain to leave the EU.
"History is on our side," Bannon said to hearty cheers.
He praised Le Pen's vision of a political spectrum that no longer spans left-right, but puts nationalists versus globalists.
Bannon gave his first European speech in Zurich earlier in the week and on Saturday said that he was traveling the world to learn.
The European tour comes as Bannon's role in US politics is uncertain. He was ousted from the White House last year amid tensions and stepped down as chairman of Breitbart News Network in January after a public break with Trump.
In France, some said that Bannon's support could damage Le Pen's efforts to cleanse the National Front of the racist stigma that has long clung to the party's image.
Le Pen defended inviting Bannon to the meeting, saying it was important to listen to the man who was "the architect of Donald Trump's victory" and has written about globalization, protectionism and giving to regular people the power that "has been practically illegally captured by the elite."
Bannon also used his visit to call Le Pen's niece, Marion Marechal-Le Pen, one of most important people in the world, according to French media.
Bannon has publicly praised Marechal-Le Pen in the past, and she galvanized the crowd at a recent convention of US conservatives.
SUNDAY VOTE
The National Front yesterday severed its ties to firebrand founder Jean-Marie Le Pen.
Despite her troubles, Marine Le Pen was re-elected to a new term as party president. She was the only candidate for the post.
A new leadership structure and 100-member governing council was also named.
Jean-Marie Le Pen did not attend the congress.
The party expelled him in 2015 over anti-Semitic remarks, but he kept the honorary position.
However, yesterday's vote is seen as a crushing blow for the 89-year-old.
Additional reporting by AP
Comments will be moderated. Keep comments relevant to the article. Remarks containing abusive and obscene language, personal attacks of any kind or promotion will be removed and the user banned. Final decision will be at the discretion of the Taipei Times.