Carnival revelers dance against leaders, LGBT violence
Rio de Janeiro's top samba schools on Monday danced and sang hard as millions of other Brazilians did the same during nationwide carnival celebrations that ridiculed local and world leaders, called for tolerance and pushed the boundaries of just about everything.
Instead of the normal start of the workweek, Brazilians loaded up on spirits and hit the beaches, public squares and streets for huge blocos, or street parties, under a penetrating tropical sun common during the sweaty summer month.
By late night, with the sun set, but the heat still in force, Rio's leading samba schools gave it their all at the Sambadrome, where they paraded 700m while thousands looked on.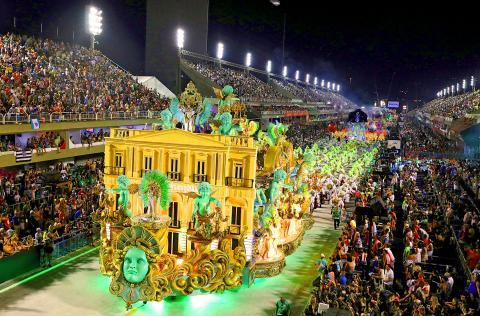 Dancers from the Imperatriz samba school perform yesterday during the second night of the carnival parade at the Sambadrome in Rio de Janeiro.
Photo: Reuters
Last year's champions, Portela, portrayed the story of Jews who fled persecution in Europe for Brazil, only to then face discrimination from Portuguese colonists.
Beija-Flor de Nilopolis, set to perform later, was expected to have a drag queen as its headliner. Pabllo Vittar has several videos with millions of hits on YouTube, including one, "Todo Dia," that alone attracted 216 million views.
Vittar is a sensation in the Brazilian pop scene, and carnival has long been a place to celebrate sexuality and diversity, but Brazil also has some of Latin America's highest rates of violence against gay and transgender people, and Beija-Flor was tackling intolerance against the lesbian, gay, bisexual and transgender (LGBT) community and others.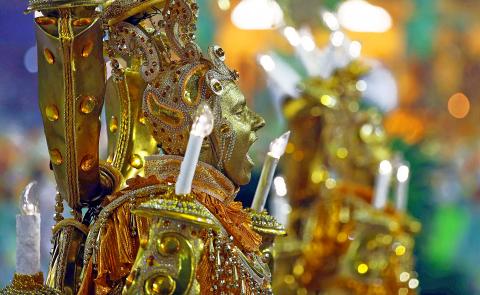 Members of the Grupo Especial Imperatriz Leopoldinense samba school yesterday take part in the carnival celebration at the Sambodrome in Rio de Janeiro.
Photo: EPA
The gay rights organization Gay Group of Bahia also on Monday hosted its annual LGBT Costume Contest in Salvador, including performances that highlighted Brazil's high rates of violence against women and LGBT people.
In Olinda, revelers paraded with giant blow-up dolls that depicted political figures like US President Donald Trump and North Korean leader Kim Jong-un, as well as celebrities, including Michael Jackson, the Beatles and Brazilian sports and pop stars.
At Carnival, everything is fair game, and many Brazilians have seized the moment to criticize their leaders at a time of intense dissatisfaction with the political class and angst over continuing fallout from a severe recession.
On Sunday, a float in Rio's samba parade featured a plastic butt with Rio Mayor Marcelo Crivella's name on it.
At parties across the country, revelers have denounced Brazilian President Michel Temer, former Brazilian president Luiz Inacio Lula da Silva and other politicians caught up in a sprawling corruption probe.
Women's groups have also been using carnival as a time to highlight and push back against sexual harassment.
Several block parties had feminist themes, many women were wearing temporary tattoos and stickers with messages like "No means no" and authorities have launched campaigns to encourage women to report harassment to police.
In Rio, the celebrations come during a time of unease, as the city that hosted the 2016 Summer Olympics is experiencing a surge in violence.
Authorities promised 17,000 security officers would patrol every day during carnival celebrations, but Brazilian media reported several muggings over the weekend in the upscale neighborhoods of Copacabana, Ipanema and Leblon.
Military police spokesman Ivan Blaz said security would be further beefed up in those beachside neighborhoods, but he also appeared to play down the violence in an interview with Brazilian TV, saying that revelers were not following basic security advice.
For instance, people should not wear jewelry or take selfies while in a crowd, he said.
Despite the problems, most revelers were enjoying the party, which officially went through yesterday, but for many stretches deeper into the week.
"Carnival is my release," Rian Rodrigues said. "I only sleep a few hours. I party all day, come to the Sambadrone at night and then keep partying."
Comments will be moderated. Keep comments relevant to the article. Remarks containing abusive and obscene language, personal attacks of any kind or promotion will be removed and the user banned. Final decision will be at the discretion of the Taipei Times.