Eleven rights activists go on trial in Turkey
Eleven human rights activists, including the local head of Amnesty International, went on trial yesterday on charges of terrorism, a case that has become a flashpoint in Turkey's tensions with European allies.
Police blocked off the main square near the Istanbul courthouse, although journalists and supporters of the defendants thronged the area.
A group of about 50 people from human rights groups, foreign consulates and women's rights groups stood outside the court holding signs reading "Free Rights Defenders."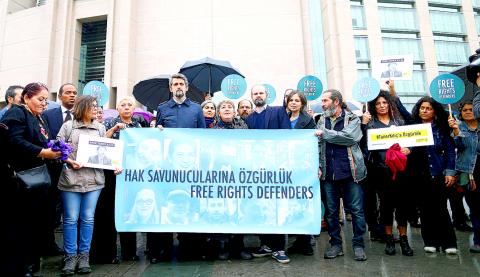 Human right activists in front of a courthouse in Istanbul, Turkey, yesterday hold placards and a banner with pictures of 10 of 11 people facing trial on charges taking part in a July workshop on digital security before the start of the detainees' trial.
Photo: EPA-EFE
The activists, also including a German and a Swedish national, face up to 15 years in prison on charges that include membership in and aid to an "armed terrorist organization."
They were detained in July after participating in a workshop on digital security held on an island near Istanbul, Buyukada.
The case has deepened concerns Turkey is sliding toward greater authoritarianism under Turkish President Recep Tayyip Erdogan.
Erdogan says a crackdown since last year's failed coup, which has seen more than 50,000 people jailed pending trial, is essential to maintain stability.
"This is ostensibly a trial of human rights defenders attending a workshop on an island in Istanbul, but in fact it is the Turkish justice system and Turkish authorities that are on trial," Amnesty director for Europe and Central Asia John Dalhuisen said outside the courthouse.
Among those on trial are Amnesty's Turkey director, Idil Eser, German citizen Peter Frank Steudtner and Swedish citizen Ali Gharavi. Steudtner and Gharavi were leading the workshop on Buyukada.
Steudtner's detention has stoked tensions in particular with Berlin, and German Minister of Foreign Affairs Sigmar Gabriel has described the terror charges as "incomprehensible."
Eight of the defendants have been held in jail ahead of the trial.
Amnesty's Turkish chairman, Taner Kilic, was jailed in June on a separate case and was later added to the same indictment after prosecutors said he was aware of preparations for the workshop.
He has been charged with membership of an armed terror group, while the others are charged with "aiding" an armed terror group.
Kilic was present in court via video link from a prison in Izmir.
Human Rights Watch condemned the fact that the trial was taking place "despite the absence of any credible evidence of criminal wrongdoing," as it urged the prosecution to drop the "politically motivated" charges.
Comments will be moderated. Keep comments relevant to the article. Remarks containing abusive and obscene language, personal attacks of any kind or promotion will be removed and the user banned. Final decision will be at the discretion of the Taipei Times.