US seeks US$5bn to ease Puerto Rico fiscal crisis
URGENT RESOURCES: Puerto Rico's request for billions of dollars to deal with a humanitarian crisis and looming liquidity crisis is likely to be granted, an official said
The White House on Tuesday asked the US Congress for US$5 billion to ease a fiscal crisis striking the government of Puerto Rico in the wake of Hurricane Maria.
Puerto Rico's central government and various municipalities and other local governments are suffering unsustainable cash shortfalls as Hurricane Maria has choked off revenues and strained resources.
The administration's request, so far delivered informally, would provide US$4.9 billion for Puerto Rico and its local jurisdictions.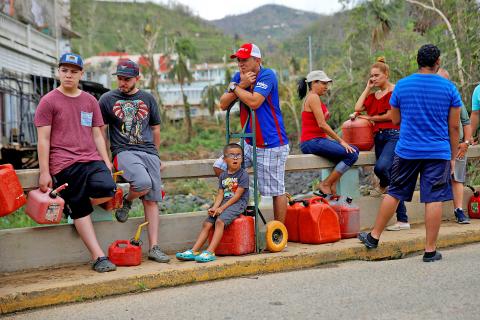 People affected by Hurricane Maria wait in line for fuel donated by the Fuel Relief Fund in Puerto Rico on Tuesday.
Photo: Reuters
The White House also requested US$150 million to help Puerto Rico with the 10 percent match required for US Federal Emergency Management Agency (FEMA) disaster relief.
A senior administration official confirmed the request, requiring anonymity because it is not yet official.
The official said that jurisdictions other than Puerto Rico are eligible, but acknowledged the cash-strapped territory is sure to receive the bulk of the money.
On Saturday last week, Puerto Rico Governor Ricardo Rossello sent a letter to lawmakers asking for US$500 million for the community disaster loan program, which is designed to help local governments deal with tax revenue shortfalls caused by disasters.
He requested almost US$4 billion in other aid.
"In addition to the immediate humanitarian crisis, Puerto Rico is on the brink of a massive liquidity crisis that will intensify in the immediate future," Rossello wrote.
Hours after the request, the US House of Representatives Committee on Appropriations unveiled a US$36.5 billion emergency spending bill that merged Tuesday's request with a proposal that the White House sent to Capitol Hill last week to replenish disaster funds and ease a cash crunch in the federal flood insurance program. A vote is expected today.
"These funds are urgently needed to get resources to families and communities that are still suffering. This legislation will continue immediate relief efforts and help jump-start the rebuilding process," House Committee on Appropriations Chairman Rodney Frelinghuysen said.
Puerto Rico was already suffering from a lengthy recession and its government was beset with fiscal struggles to begin with. A financial control board is overseeing its debt problems and austerity plans.
The administration asked for US$29 billion last week for FEMA disaster relief efforts and to pay federal flood insurance claims.
House Majority Leader Kevin McCarthy said a vote is likely this week.
The White House also requested US$577 million to replenish federal firefighting accounts depleted by this year's bad spate of western wildfires.
The leadership-backed House aid bill ignores requests made last week by the Texas and Florida delegations last week for tens of billions of dollars in additional assistance.
Texas requested US$19 billion in Hurrican Harvey relief, while Florida asked for US$27 billion for Hurricane Irma damage.
House Democratic leader Nancy Pelosi issued a statement on Tuesday that said funding is also needed to help California recover from ongoing wildfires.
Comments will be moderated. Keep comments relevant to the article. Remarks containing abusive and obscene language, personal attacks of any kind or promotion will be removed and the user banned. Final decision will be at the discretion of the Taipei Times.