New rules, tech dimming Hong Kong's neon glow
For Hong Kong's famed neon lights, the future looks dim.
Neon-lit signs were once ubiquitous, illuminating the streets with their soft, warm glow and giving the dynamic Asian territory a signature look to match its post-World War II economic boom.
Tens of thousands of signs on countless tower blocks advertise restaurants, nightclubs, saunas, camera shops and jewelry boutiques in a rainbow of garish hues. Many are cantilevered far out over the street, competing for people's attention.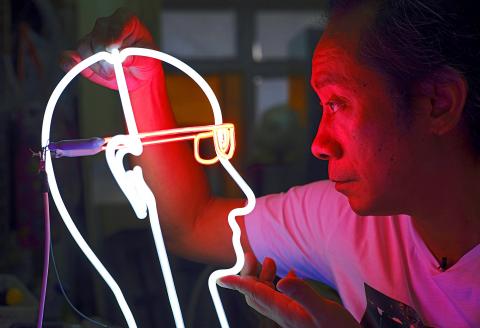 Wu Chi-kai, one of about half a dozen active neon sign masters left in Hong Kong, looks at his work during an interview in the territory on Aug. 15.
Photo: AP
Few symbols have come to represent Hong Kong as much as its skyline of flashing and blinking neon billboards. That visual heritage is now under threat.
Over the past two decades, Hong Kong's neon industry has been gradually dying out, a victim of changing tastes, new technologies and tighter regulations. Some groups have been fighting to save the neon signs as part of the territory's cultural heritage before they disappear completely.
"Neon signs are not just something that illuminate," said Cardin Chan of Hong Kong Neon Heritage, whose members are cataloging the signs that remain and working on creative ways to preserve them. "They should be considered as art and it is very unique to Hong Kong."
Wu Chi-kai is one of about half a dozen neon sign masters left in Hong Kong.
The 50-year-old said he now earns about one-third of what he made during the "golden era for the neon sign industry" in the 1980s and early 1990s.
At the time, Hong Kong was at its economic peak.
Wu had done a six-month apprenticeship in his teens before being hired by a signmaker.
Their days were so busy that he sometimes slept in the studio, he said.
"Around 1997, LEDs came out," Wu said. "I thought that it would be a strong enemy of neon signs. As neon signs had been used for decades, people perceived it as old-fashioned and people usually love to use something new for their store signs."
LED signs have since proliferated across Hong Kong because they are brighter and more energy efficient, but purists say they also lack neon's warm tones.
Neon's appeal also faded because of its association with red-light districts, a turn-off for businesses wanting a wholesome image.
Hong Kong government regulations have also sped neon's demise.
Decades ago, few regulations governed sign placement and size, Wu said.
Businesses tried to do outdo each other by putting up bigger and bigger signs, held up by cables and jutting out over busy thoroughfares such as the Nathan Road tourist strip in Kowloon's Tsim Sha Tsui district. At night, they appear to float in the sky.
"When our clients wanted their neon signs to catch the attention of passersby, they would make the signs wider to avoid being blocked by the other ones," Wu said.
The Hong Kong Department of Buildings has been cracking down and ordering that some signs be removed.
It does not tally how many neon signs Hong Kong has, although it says the territory has about 120,000 signboards, many of which are believed to be unauthorized.
In each of the past two years, the department has removed or repaired about 2,700 dangerous or unauthorized signboards and issued removal orders for about 700 more.
Among those caught up in the clampdown was a sign depicting a giant Angus cow that had long been a local landmark, hanging above the entrance to the restaurant Sammy's Kitchen since 1977.
The owners donated it to M+, Hong Kong's museum of visual culture, which is now adding neon signs to its permanent collection and had dedicated an exhibition to neon signs in 2014.
Comments will be moderated. Keep comments relevant to the article. Remarks containing abusive and obscene language, personal attacks of any kind or promotion will be removed and the user banned. Final decision will be at the discretion of the Taipei Times.