Texas braces as storm becomes 'life-threatening'
Hurricane Harvey continued to intensify as it steered for the Texas coast, with the forecasters saying it had strengthened to a Category 2 storm.
The hurricane with the potential for up to 90cm of rain, 200kph winds and 3.7m storm surges could be the fiercest such storm to hit the US in almost a dozen years.
Forecasters labeled Harvey a "life-threatening storm" that posed a "grave risk" as millions of people braced for a prolonged battering that could swamp dozens of counties more than 160km inland.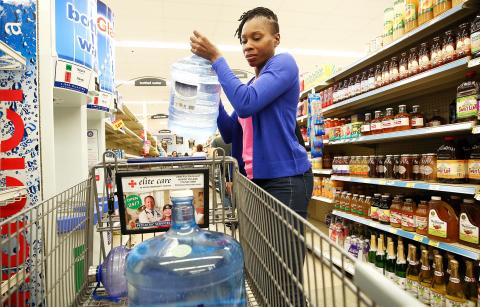 Marie Michel loads a filled water bottled into her shopping cart inside the Kroger store in preparation for Hurricane Harvey in Houston, Texas, on Thursday.
Photo: AP
Landfall was predicted for late yesterday or early today between Port O'Connor and Matagorda Bay, a 48km stretch of coastline about 110km northeast of Corpus Christi.
Harvey on Thursday grew quickly from a tropical depression into a Category 1 hurricane.
Early yesterday, the National Hurricane Center reported it had become a Category 2. Fueled by warm Gulf of Mexico waters, it was projected to become a major Category 3 hurricane.
The last storm of that category to hit the US was Hurricane Wilma in October 2005 in Florida.
Superstorm Sandy, which pummeled New York and New Jersey in 2012, never had the high winds and had lost tropical status by the time it made landfall.
However, it was devastating without formally being called a major hurricane.
"We're forecasting continuing intensification right up until landfall," US National Hurricane Center spokesman Dennis Feltgen said.
All seven Texas counties on the coast from Corpus Christi to the western end of Galveston Island have ordered mandatory evacuations of tens of thousands of residents from all low-lying areas.
In four of those counties, officials ordered their entire county evacuated and warned those who stayed behind that no one could be guaranteed rescue.
Voluntary evacuations have been urged for Corpus Christi itself and for the Bolivar Peninsula, a sand spit near Galveston where many homes were washed away by the storm surge of Hurricane Ike in 2008.
Texas officials expressed concern that not as many people are evacuating compared with previous storms.
"A lot of people are taking this storm for granted thinking it may not pose much of a danger to them," Texas Governor Greg Abbott told Houston TV station KPRC. "Please heed warnings and evacuate as soon as possible."
Abbott has activated about 700 members of the state National Guard ahead of Hurricane Harvey making landfall.
As of late Thursday afternoon, Harvey was about 490km southeast of Corpus Christi, moving to the north-northwest at about 17kph. Sustained winds were clocked at 137kph.
Harvey's effect would be broad.
The hurricane center said storm surges as much as 90cm could be expected as far north as Morgan City, Louisiana, about 644km away from the anticipated landfall.
Once it comes ashore, the storm is expected to stall, dumping copious amounts of rain for days in areas like flood-prone Houston, the nation's fourth most-populous city, and San Antonio.
State transportation officials were considering when to turn all evacuation routes from coastal areas into one-way traffic arteries headed inland.
John Barton, a former deputy executive director of the Texas Department of Transportation, predicted state officials will do this before the storm hits, but said timing and determining where to use it are the key factors.
Storms change paths and if contraflow starts too early, supplies such as extra gasoline needed to support impacted areas cannot get in, he said.
This would be the first hurricane for Bethany Martinez, who is pregnant and has two boys, five and six, who were with grandparents in Austin.
Asked about her demeanor, Martinez replied: "Afraid."
She is a front desk clerk at a Holiday Inn Express at Port Aransas.
"We are closing down," Martinez said of the 74-room hotel a couple of blocks from the Gulf of Mexico.
Comments will be moderated. Keep comments relevant to the article. Remarks containing abusive and obscene language, personal attacks of any kind or promotion will be removed and the user banned. Final decision will be at the discretion of the Taipei Times.