Defrocked Thai Buddhist monk charged with rape
A Thai court yesterday charged a disgraced former monk with the rape of an underage girl, fraud and money laundering, after he was extradited from the US.
Thailand is an overwhelmingly Buddhist nation with about 300,000 men in orange robes, but the clergy have been beset by high-profile scandals.
Wiraphon Sukphon, 37, was arrested on arrival at Suvarnabhumi Airport late on Wednesday from the US, where he had established an unofficial Buddhist teaching center after fleeing Thailand in 2013.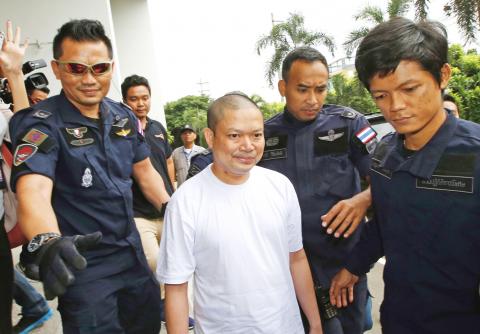 Fugitive ex-monk Wiraphon Sukphon is escorted by Thai Department of Special Investigation officials yesterday to the prosecutor's office in Bangkok.
Photo: AP
He faces a total of five charges, including raping a minor under 15 years old, which carries a jail term of up to 20 years. He fathered a child with the girl he raped.
"The Criminal Court has accepted to hear the case against Wiraphon," said Worranan Srilum, a spokesman for the Department of Special Investigation (DSI) police unit. "The defendant did not apply for bail."
Wiraphon made headlines in 2013 when footage emerged of him with two other monks on a private jet wearing sunglasses and wielding Louis Vuitton designer bags — earning him the tabloid moniker the "jet-set monk."
A subsequent probe seized US$770,000 of his assets, including a Porsche and a Mercedes Benz, and 41 bank accounts.
His temple in the rural town of Buriram disrobed him after the allegations surfaced and he fled the kingdom, but he continued to act as a monk.
A US court in May ordered his extradition after a request from Thai authorities.
Comments will be moderated. Keep comments relevant to the article. Remarks containing abusive and obscene language, personal attacks of any kind or promotion will be removed and the user banned. Final decision will be at the discretion of the Taipei Times.