FEATURE: Australian city courts China, even with US Marines
When the US signed an agreement in 2011 to use Australia's tropical port of Darwin as a base for military exercises, it was viewed as a key focus of then-US president Barack Obama's strategic pivot to Asia.
However, when ammunition and equipment arrive next month for war games between US and Australian forces in Darwin, it will come ashore at the town's Chinese-run port under the eyes of a firm said to have links with China's military.
China, and not the US, is fast becoming long-neglected Darwin's best hope for rejuvenating a city, named after 19th-century naturalist Charles Darwin and better known for its monster crocodiles and giant beers.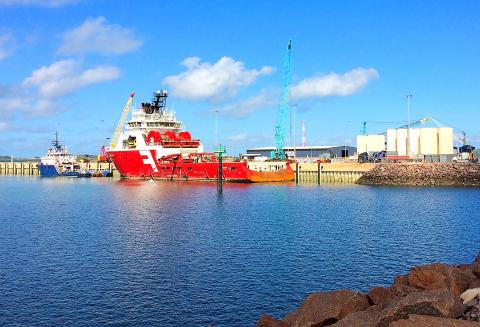 Supply vessels for the offshore gas rigs sit at Darwin port in northern Australia on April 21.
Photo: Reuters
"I can feel that we are definitely on the cusp of another great leap in our economic growth," said Darwin Lord Mayor Katrina Fong Lim, whose ancestors emigrated along with thousands of other Chinese migrants in the 1860s, lured by the discovery of gold.
"You just need to have a look around you to look at the investment that's coming in," she said in an interview.
Touted as Australia's front door to Asian markets and a potential hub for resources and agriculture exports, Darwin is the centerpiece of a A$5 billion (US$3.76 billion) Australian government loan scheme aimed at developing the continent's north.
China wants to include Darwin, which is closer to Jakarta than it is to Canberra, in its ambitious "One Belt, One Road" project and the local government has grand plans to attract big-spending Chinese tourists.
"The Chinese are walking the talk," Port of Darwin chief executive Terry O'Connor told reporters as three camouflage-painted Blackhawk helicopters flew low over the harbor one afternoon last month when a contingent of US Marines landed for a regular six-month rotation of forces.
"The Chinese are saying there's an opportunity and they're investing behind it," O'Connor said.
Darwin has hosted a contingent of 1,250 Marines since 2011, part of Obama's strategic pivot to Asia to counter a rising China. It is due to grow to 2,500 by 2020.
Australia's decision to allow China's Landbridge Group Co to secure a 99-year lease over the strategically important Port of Darwin raised some eyebrows in the US. The port is the southern flank of US operations in the Pacific.
O'Connor said that there is "no evidence" of military involvement and the port is "purely a commercial operation."
Landbridge, a petrochemical and port logistics company, did not respond to requests for comment.
However, some critics in Australia question the tight military relationship with the US — it has fought alongside the US in all its conflicts since World War I — when China has emerged as Australia's most important trading partner.
Landbridge plans to add capacity to the cruise ship terminal and to build a luxury hotel on the waterfront.
Other projects on the drawing board include everything from soybeans and prawn farms to frozen beef exports and a huge phosphate mine, along with new government-funded roads and rail lines to link them.
However, for all the talk, there is as yet little action in Darwin. None of the federal government's promised loans for infrastructure have been disbursed.
"Two years down the track you'll probably see the same," Kim Ly told reporters as she served just four diners at her wharf fish-and-chip shop. "We came here, we worked hard, we saved up, we bought a business, but that was before. Now it is very hard."
The city's population has stalled short of 150,000 — about 0.5 percent of Australian's total — and is expected to fall next year.
Low unemployment of 3.5 percent and strong headline growth figures, boosted by multibillion dollar gas projects from Inpex and Royal Dutch Shell, mask a weak underlying economy projected to shrink further.
Visitor numbers are officially forecast to be lower than they were a decade ago and they will spend 300 fewer hotel nights in the Northern Territory this year than they did in 2007.
Throughput at the wharves is down and the main shopping mall is filled with "for lease" signs. Short-term apartment rentals, favored by the resource industry's fly-in-fly-out workers, lie empty.
The top exports from Darwin are manganese, bound for Malaysia, and live cattle, destined for Indonesia.
However, piles of iron ore that once waited for export have vanished, the workers who brought it there are gone with it and the outback mines whence it came have shut since commodity prices began to fall in 2014.
Inpex and Shell's major liquefied natural gas projects, which are tipped to have reserves to last a generation, are beset by delays and cost overruns.
Despite plans to extend the quay line and reclaim more land, investment at the port so far amounts to A$15 million spent on extending asphalted areas, a new pilot boat and a yard for refrigerated containers.
Major highways in the Northern Territory remain unsealed and often impassable when it rains.
Lonely Planet named Darwin one of the top 10 cities in the world to visit in 2012, citing its vibrant nightlife, sunset beaches and proximity to several national parks.
However, some visitors were unimpressed.
Sharice Sun, a 29-year-old from Xian, China, on a working holiday was headed for the library on her day off for lack of anything better to do.
Her verdict: "It's too hot, it's small and boring."
Comments will be moderated. Keep comments relevant to the article. Remarks containing abusive and obscene language, personal attacks of any kind or promotion will be removed and the user banned. Final decision will be at the discretion of the Taipei Times.