China orders GPS tracking of all cars in Xinjiang
MANDATORY: Hundreds of thousands of vehicles are affected by an edict covering part of restive Xinjiang, with no gasoline for owners who refuse to comply
Security officials in China's violence-stricken northwest have ordered residents to install GPS tracking devices in their vehicles so that authorities are able to keep permanent tabs on their movements.
The compulsory measure, which came into force this week and could eventually affect hundreds of thousands of vehicles, is being rolled out in the Bayingolin Mongol Autonomous Prefecture of Xinjiang.
The move comes amid an apparent spike in killing that authorities blame on Muslim militants and separatists, but which experts say is also fueled by ethnic friction between Han Chinese migrants and members of the predominantly Muslim Uighur minority to whom Xinjiang is home.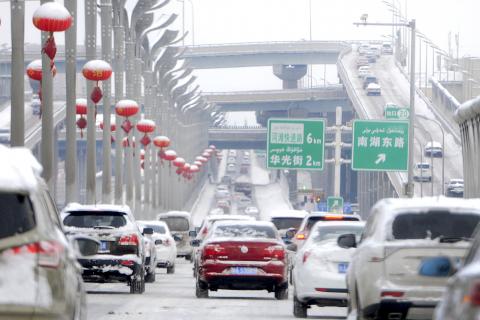 A photo released on Monday by Xinhua news agency shows traffic on a snow-covered road in Urumqi, Xinjiang, China.
Photo: Xinhua via AP
Since Thursday last week, mass anti-terror parades involving thousands of heavily armed troops have been staged in three of Xinjiang's most important cities following two deadly attacks in which more than a dozen people were slain.
A statement posted on a Web site run by the propaganda office of Bayingolin's government, Loulan News, said the order to install GPS trackers would help "ensure social security and safety and promote social stability and harmony."
"There is a severe threat from international terrorism, and cars have been used as a key means of transport for terrorists as well as constantly serving as weapons. It is therefore necessary to monitor and track all vehicles in the prefecture," an earlier announcement said.
From Monday to June 30 all private, secondhand and government vehicles, as well as heavy vehicles, such as bulldozers and trucks, would have to comply with the order by installing the China-made Beidou satellite navigation system.
Drivers who refuse to do so would not be allowed to fill their tanks at gasoline stations.
Recent years have seen extremists with links to Xinjiang use vehicles to carry out a series of terror attacks in China, including a May 2014 market bombing in the state capital, Urumqi, and an attack in Beijing's Tiananmen Square in October 2013.
Vehicles have also been used to commit attacks on civilians in Nice and Berlin.
Yang Shu, a terrorism expert at China's Lanzhou University, said the tracking devices would help bolster the government's fight against terror in a vast but sparsely populated region where about 1.5 million residents are spread over an area almost twice the size of the UK.
"The prefecture has a large area and a small population so there are many blind spots that are difficult in terms of government surveillance," he said.
Yang said the installation of such devices — which he believed was part of a pilot project that would eventually be rolled out across Xinjiang — was far cheaper than putting up tens of thousands of security cameras.
James Leibold, a Xinjiang expert from Australia's La Trobe university, said that since deadly ethnic rioting in 2009 authorities had gradually been transforming the region into a police state in a bid to halt the killing.
"There has been tremendous investment in both low-tech and hi-tech methods of surveillance," he said.
"That does have an effect. It probably pushes resentment further underground. Of course, you are going to have violent events from time to time, but at the same time I think a lot of Uighurs probably realize that any attempt to resist is going to result in their death and serious troubles for their families. And most of them would just keep their heads down, I think," he said.
Comments will be moderated. Keep comments relevant to the article. Remarks containing abusive and obscene language, personal attacks of any kind or promotion will be removed and the user banned. Final decision will be at the discretion of the Taipei Times.