Colleagues mourn Russian UN envoy
'DIPLOMATIC MAESTRO': Former US ambassador to the UN Samantha Power praised Vitaly Churkin for doing all he could to bridge differences between the US and Russia
Russian ambassador to the UN Vitaly Churkin, who died suddenly after falling ill at his office at Russia's UN mission, is being remembered by his diplomatic colleagues as a powerful and passionate voice for his nation.
Churkin was taken to a hospital, where he died on Monday, according to Russian Deputy Ambassador to the UN Vladimir Safronkov.
Churkin would have turned 65 yesterday. The cause of his death was not immediately known.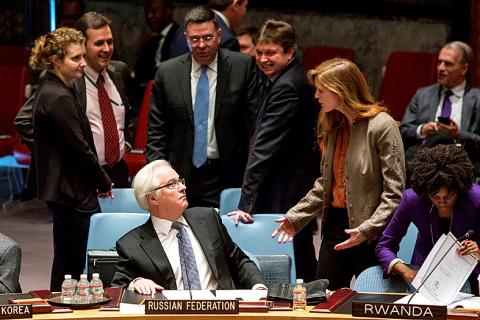 Then-US ambassador to the UN Samatha Power, right, talks to her Russian counterpart, Vitaly Churkin, left, before a vote regarding the Ukrainian crisis, at the UN Security Council in Nwe York on March 15, 2014.
Photo: Reuters
Churkin had been Russia's envoy at the UN since 2006. He was the longest-serving ambassador on the UN Security Council.
UN Secretary-General Antonio Guterres called him "a uniquely skilled diplomat, a powerful orator with great wit, and a man of many talents and interests."
"Although we served together for a short time, I greatly appreciated the opportunity to work with him and will deeply miss his insights, skills and friendship," Guterres said in a statement.
Russian President Vladimir Putin esteemed Churkin's "professionalism and diplomatic talents," spokesman Dmitry Peskov said, according to the state news agency TASS.
Diplomatic colleagues from around the world mourned Churkin as a master in their field, saying he had both a deep knowledge of diplomacy and a large and colorful personality.
US Ambassador Nikki Haley said that while she and Churkin did not always agree, "he unquestionably advocated his country's positions with great skill."
Her predecessor, Samantha Power, described him on Twitter as a "diplomatic maestro and deeply caring man" who had done all he could to bridge differences between the US and Russia.
Those differences were evident when Power and Churkin spoke at the Security Council last month, when she lashed out at Russia for annexing Ukraine's Crimean Peninsula and for carrying out "a merciless military assault" in Syria.
Churkin accused former US president Barack Obama's administration of "desperately" searching for scapegoats for its failures in Iraq, Syria and Libya.
Churkin died weeks into some major adjustments for Russia, the UN and the international community, with a new secretary-general at the world body and a new administration in Washington. Meanwhile, the Security Council is due this week to discuss Ukraine and Syria.
From Moscow's vantage point, "Churkin was like a rock against which were broken the attempts by our enemies to undermine what constitutes the glory of Russia," TASS quoted Russian Deputy Foreign Minister Sergei Ryabkov as saying.
Churkin's UN counterparts "experienced and respected the pride that he took in serving his country and the passion and, at times, very stern resolution that he brought to his job," UN General Assembly President Peter Thomson of Fiji said.
However, colleagues also respected Churkin's intellect, diplomatic skills, good humor and consideration for others, said Thomson, who called for a moment of silence at the start of an unrelated meeting on Monday.
Churkin told Russia Today in an interview this month that diplomacy had become "much more hectic," with political tensions rising and stability elusive in various hotspots.
At the time, he looked in good health, reporter Alexey Yaroshevsky tweeted on Monday.
Comments will be moderated. Keep comments relevant to the article. Remarks containing abusive and obscene language, personal attacks of any kind or promotion will be removed and the user banned. Final decision will be at the discretion of the Taipei Times.