Fillon, wife questioned in 'fake work' probe
French conservative presidential candidate Francois Fillon and his wife were questioned for five hours by police investigators on Monday as part of a probe into allegations that Penelope Fillon had been paid for fake jobs.
The allegations, which Fillon rejects, are sapping the popularity of the former prime minister and could shake up the April-to-May presidential contest, for which he has so far been the clear favorite.
Fillon said in a statement that he and his wife had provided investigators with information that would help "establish the truth on the work carried out by Mrs Fillon."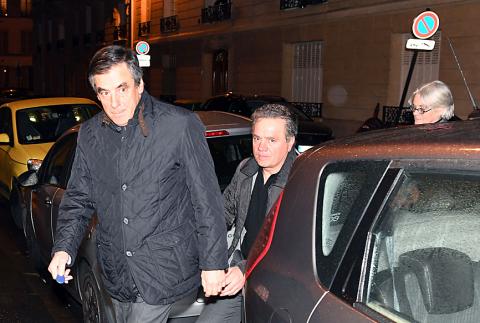 French presidential candidate Francois Fillon, left, and his wife, Penelope Fillon, right, accompanied by his bodyguard, arrive at their home in Paris on Monday night.
Photo: AFP
Such questioning is a normal step in a preliminary probe and not an indication of guilt.
The French financial prosecutors' office last week opened an investigation after the satirical weekly Le Canard Enchaine reported that Penelope Fillon had been paid 500,000 euros (US$534,975) from state funds as a parliamentary assistant to her husband and his successor, but that it could find no evidence that she had actually done any work.
Fillon has said his wife's work was real and that he is the victim of a smear campaign.
However, he is in an increasingly tight race against French presidential candidates Emmanuel Macron, a centrist, and far-right National Front leader Marine Le Pen, according to surveys carried out since Le Canard Enchainepublished its story.
The affair has dented the wholesome image that Francois Fillon, a devout Catholic has cultivated.
Analysts have said it could also make it harder for Fillon to stick to a platform of spending cuts and firing of civil servants.
"This is harming him both in his bid to get to the Elysee [presidential palace] and also for his calls for the French to agree to tighten their belts for the sake of the recovery of the French economy," said Francois Miquet-Marty of the pollster Viavoice.
A privately organized Internet petition asking Penelope Fillon to "give us back the 500,000 euros" had by Monday evening collected 248,000 signatories.
Fillon's lawyer Antonin Levy said investigators would be sent more evidence in the coming days to prove that Penelope Fillon's work was real and "very important."
Asked about what work Penelope Fillon, who had up until now said she was staying out of politics, had been doing, Levy told BFM TV: "Working as a parliamentary assistant is not about writing up notes ... and summaries, it is also sometimes less tangible, less concrete but as real."
The probe is at this stage only a preliminary investigation, the first step in the judicial process. If police find that the allegations stand up, prosecutors can seek a formal inquiry by a magistrate.
Comments will be moderated. Keep comments relevant to the article. Remarks containing abusive and obscene language, personal attacks of any kind or promotion will be removed and the user banned. Final decision will be at the discretion of the Taipei Times.